A cute stuffed animal tops off a perfect gift selection for your Valentine. Cuddle Barn, the leading designer and manufacturer of

animated plush creations has some cute stuffed animals that sing popular songs while dancing. These cute musical plush toys feature high quality audio, and will be instantly loved by their recipient. Cuddle Barn's mission is to put a smile on ones face and they certainly do just that.
Scrappy and Hunny have warmed their way into my daughter's heart.
Standing 10″ tall, Scrappy the bulldog comes featuring his unique Letterman jacket while fighting for your love to the song  "Do You Love Me" while his arms and ears dance and move.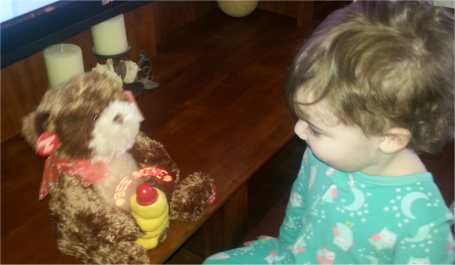 Standing 12″ tall, Hunny just loves to share his Honeycomb. With a press of a button, Hunny dances and sings the classic "Sugar, Sugar". When activated, the LED fan spins and display messages: "I Love You", "Bee Mine" and Heart emoticons.
Lucky in Love –Who could resist the charms of a monkey with so much to offer? Lucky in LOVE stands 12″ tall. His body sways and his mouth moves, while the letters on his candy box light up to the rhythm of his romantic song (Nat King Cole's "L.O.V.E.") Just press his foot to start the show.
Valentines Day is just around the corner and what better gift to give then one of the animated plush mentioned here.
Website: http://store.cuddle-barn.com