March break is here, it's time to unplug those electronics and unlock a world of fun and imagination, with Hasbro. One of my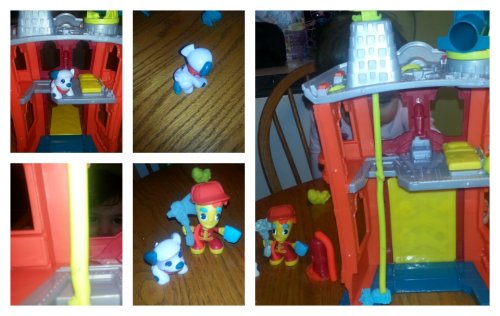 own favorite childhood memories is sitting around the table, playing with Play-Doh. Since its 1956 debut, Play-Doh has expanded into more than 80 countries across the globe with more than 3 billion cans of Play-Doh compound sold, making it one of Hasbro's leading brands.
Hasbro is celebrating Play-Doh's 60th birthday with the introduction of Play-Doh Town, a new system of play through Town-themed playsets, vehicles and figures that work together to build a world for expansive, storytelling play.
With scenes and themes that kids are familiar with, such as a Pizza shop, Ice Cream Truck and Firehouse, and figures such as a police officer and a hairdresser, your children can use their imaginations to create unique stories each time they play.
With Hasbro's new Play-Doh Town play sets, keeping your child engaged and entertained is easy. My 3 year old daughter, husband and I have been busy playing and creating with the Pizza Delivery figure and vehicle, Town Firehouse, and Ice Cream Truck play set. Each set comes with some extruders allowing the water hose to "squirt" water or the puppy to "poop". These are great to help improve fine motor skills.
Play-Doh Town Firehouse comes with four cans of Play-Doh, a firefighter figure with hat, roof, flame stamper, water cannon extruder, ax, hydrant extruder and a puppy that poops. You read that right! The little dog that comes with Fire Station Poops Play Doh!
The firefighter play set, encourages kids to use the Play-Doh compound to make a red fire or a blue stream of water to fight the blaze. Your child can even create a fire pole using Play-Doh. Use the decorative Play-Doh cans to create a building. Most characters in the set, like the firefighter, are gender neutral. Your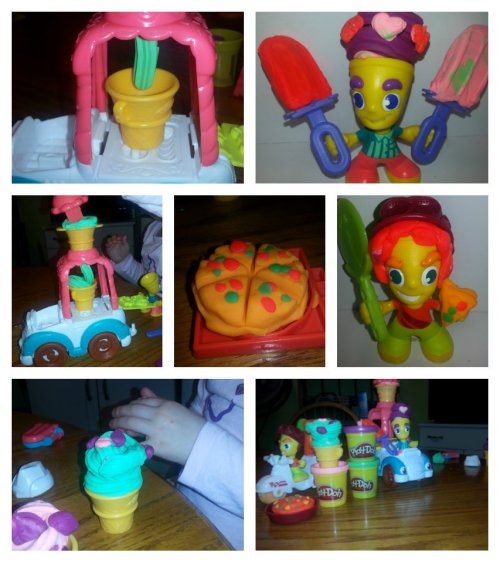 child can assign their own character by adding hair, for example.
The Play-Doh Town Pizza Delivery comes with three cans of Play-Doh, a delivery boy, scooter, accessories, and molds. Kids can make pizza and add as many toppings as they want. Who doesn't love making their own pizza? Children can stamp and cut their own pizza and then hop on their scooter to deliver in record time!
Enjoy pretend ice cream on a hot summer day or any time of year with the Play-Doh Town Ice Cream Truck. The set comes with an ice cream truck on wheels, an ice cream maker figure with a hat, three cones, two Popsicle sticks, three cans of Play-Doh and multiple mini molds.
Kids can make silly hairstyles for the ice cream man, or use the stampers on his feet to make a bow tie and money. The molds on the truck and tray can make all kinds of yummy toppings, and the popsicle mold can make two popsicles.
An extruder that's shaped like an ice cream scoop presses out pretend soft-serve from the ice cream cone. Kids can also pretend to drive the truck around Play-Doh Town to sell their treats. This is my daughter's favorite set of the 3 sets that she owns. It is a personal favorite of mine too, as you can make swirly ice cream cones and fun flavored popsicles!
I really love how each of the sets complete each other and you can literally build an entire town that can be used with the Play-Doh or alone.
Play-Doh always goes over well in our house and Hasbro's new Play-Doh Town is a winner. I think the new addition of Play-Doh Town proves that even in their 60th year, Hasbro is still on top. The creativity and thought process that is put into each set really sets them apart. We look forward to expanding our daughter's Play-Doh Town, by adding new themes. You can also purchase a Pet Store, Hairdresser, Police Officer and Vehicle as well as a Road worker set that also comes with a pup.
Hasbro, Inc. (NASDAQ: HAS) is a branded play company providing children and families around the world with a wide-range of immersive entertainment offerings based on the Company's world class brand portfolio. From toys and games, to television programming, motion pictures, video games and a comprehensive licensing program, Hasbro strives to delight its customers through the strategic leveraging of well-known and beloved brands. Visit hasbro.ca.