Lucky Cat Rain Coat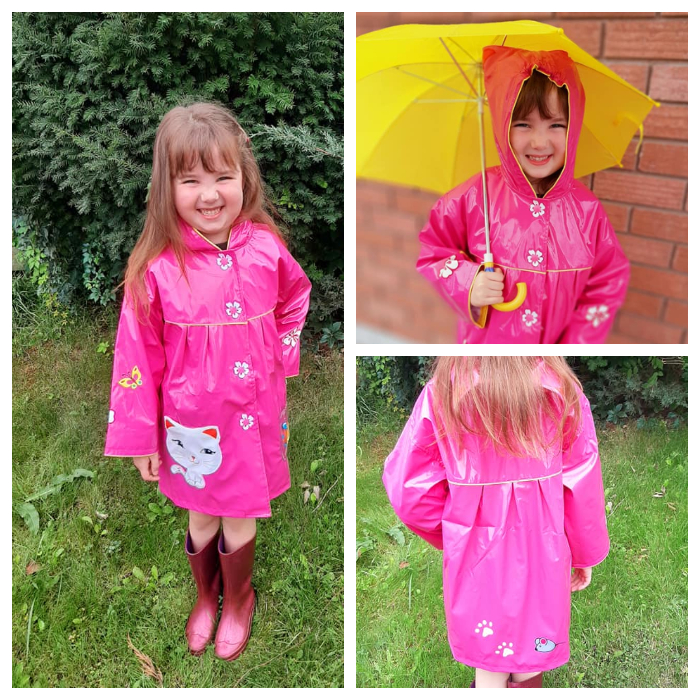 Practical and imaginative, Kidorable has my daughter covered this fall with their adorable line of kids rain gear. Who says rainy days can't be just as fun as sunny ones? We are big fans of the adorable rain apparel that Kidorable has to offer.
My daughter will be catching raindrops and splashing from puddle to puddle in Kidorable's Lucky Cat raincoat. The coat is made of 100% PVC, a hard wearing plastic fabric that is easy to clean.  The lining of the jacket is a high quality polyester for comfort, and to keep her warm, as well as stop the rain and wind from penetrating through the material. Th jacket features a fun Lucky Cat pocket, a 2nd fish bowl pocket, flower buttons and cute kitty ears. For review purposes , so that you can see the sizing, my daughter is wearing a size 6/7.
A Lucky Cat preschool backpack, rain boots and kids umbrella are also available.
Kidorable raincoats do run a size larger, allowing lots of room for growth. This is a good thing, as it allows children to get two seasons of wear out of it.
All of the coats have an elasticated hood, which continues the fun theme and ensures your child will be kept dry from head to toe.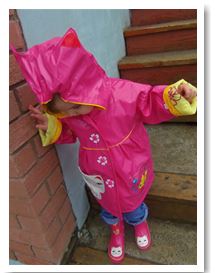 Raincoats are available in a range of sizes, starting with the 'my first coat range' for 12 to 18 months and continuing right up to size 6x.
Ballerina Rain Coat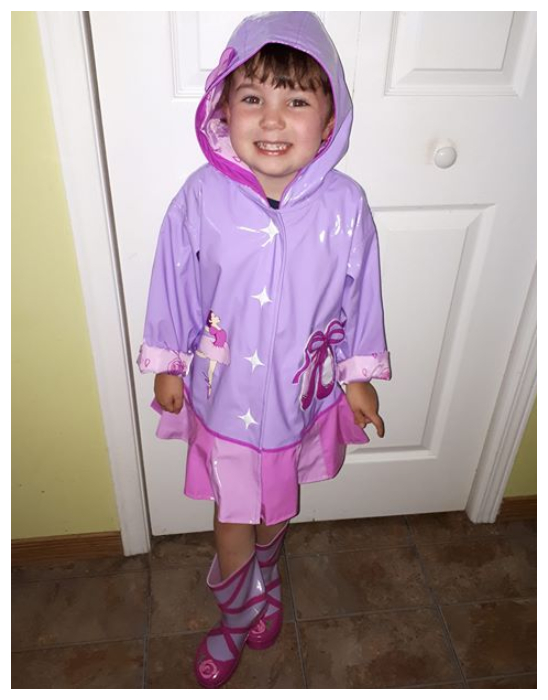 Featuring an enchanting design with a ballerina, pointe ballet shoes picture, heart pattern on sleeves,  and tutu-like hem, the ballerina rain coat can be worn any time of the year.
Even on gray days, she'll be footloose & fancy free in  ballerina Kidorable rain boots. The natural rubber rain boots feature a rose on each foot, with a printed cotton lining and non-slip sole.
Kidorable has many styles when it comes to kids rain gear. Themes include butterfly, fairy, fireman, ladybug, lotus, frog, mermaid, pirate and more.
Kidorable, has the edge when it comes to quality, and design. The company also features a comprehensive product line that includes backpacks,  hanger sets, and towels.
Their main motto is to transform everyday, functional kids accessories and clothes into objects that will excite their imaginations and enrich their lives at play. Simply put their clothes are fun!
About Kidorable
Distinguish by their high quality, unique collection – from frogs to firemen, fairies to dinosaurs, and ladybugs to lotus flowers, Kidorable, transforms every day, functional kids' apparel and accessories into objects that excite children's imaginations and enrich their lives at play. Kidorable products are available for purchase at apparel, shoe and gift retailers across the globe, and at kidorable.com.
What is your favorite item from Kidorable?
Kidorable has partnered with us to give one US or Canadian reader the chance to win an umbrella. You must be 18 years or older to enter and only one entry per household. Good luck!
Kidorable Umbrella Giveaway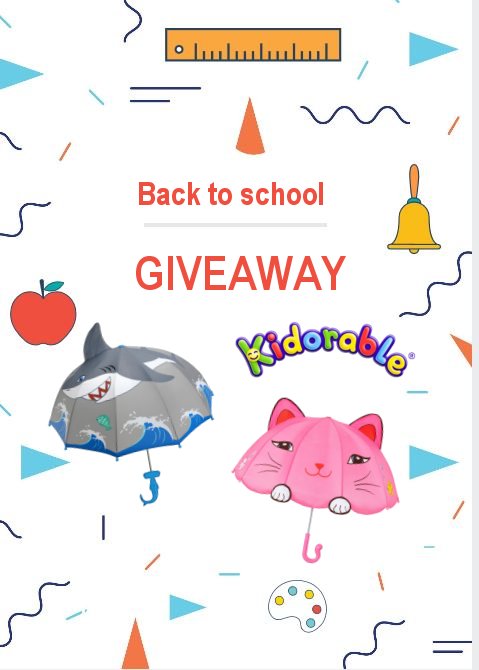 Enter to win an umbrella of your choice from Kidorable.