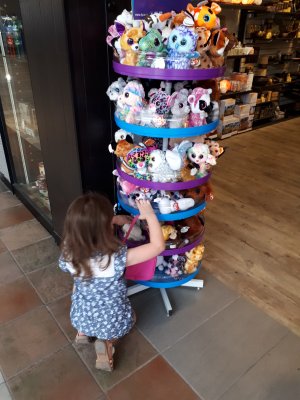 A new collection craze has hit our house. The power of TY Beanie Boos with their large head and big eyes has won Miss P over. So what are Beanie Boos you ask? TY Beanie Boos are an adorably cute collection of soft plush animal & character toys that come in various shapes, colours and sizes. Beanie Boos by Ty were first introduced in 2009. They are similar to Beanie Babies, but they have larger eyes and bigger heads. Today, Beanie Boos seem to be more popular than the Beanie Babies of the 90's. Perhaps it is due to their oversized eyes and endearing expressions, which make them a favorite, adored by children everywhere.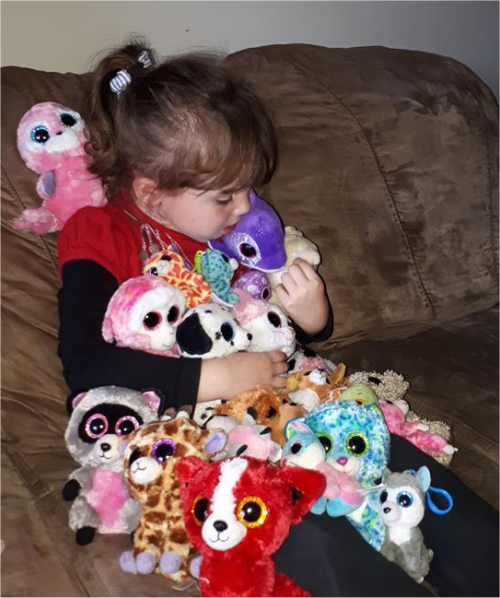 Each Beanie Boo comes with a unique name and birth date included on its tag. With four sizes to choose from ranging from 3″ keys clips that go everywhere to 16″ large plushies that take the cuddle factor to the next level there is something for everyone. Plus, cute new additions are arriving all the time!
Miss P. absolutely loves Beanie Boos. She received her first Beanie Boo plush in 2015. Sense then her collection has grown. She has 62 total, including her newest additions Christmas Boos – Bella and Penelope. She owns 12 key-chains, 40 small beanie boos, 10 medium size beanie boos- not forgetting her 8 teeny TYS and 6 character TY stuffies. She has added Ty Beanie Boo-KIKI to her ever growing wish list.
TY Beanie Boos Christmas releases
Both of the TY Beanie Boo Christmas releases are absolutely adorable. I just couldn't wait until Christmas to give them to Miss P. Penelope the penguin is ready for the chilly weather. She is wearing an adorable wholly hat.  In addition to her cute hat, Penelope has sparkly blue eyes and a glittery stomach. She is no ordinary penguin. Bella Bear is as sweet as the candy cane she's clutching.  Be it  your child is just getting started, or has a menagerie of Boos already, both Penelope, and Bella Bear would make a great addition to any Beanie Boos collection
At around $5 for a 6 inch Boo, they're reasonably priced for kids to gift to friends and cousins. Miss P uses her allowance money and birthday money to purchase some of hers. Though each of her Beanie Boos comes with names, she gives each of them a new name and they each take turns tucked under the covers with her at night.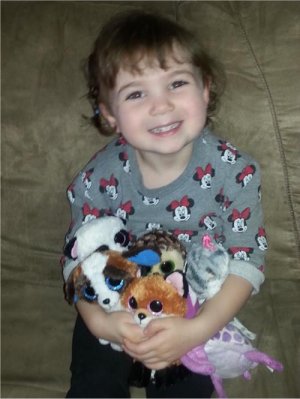 TY Beanie Boos will be sure to meet the expectations of any child. Whether your child's favorite animal is a puppy or a penguin, you will be sure to find the perfect Beanie Boo. In addition, smaller sized Beanie Boos make wonderful stocking stuffers.
Beanie Boos are not just for children.  They are also comforting, loving and nurturing gifts for seniors in nursing homes.
Ty Teeny Tys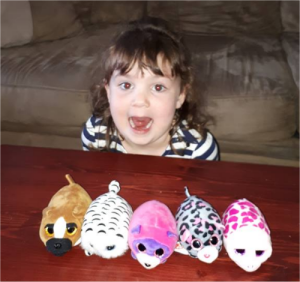 Ty Teeny Tys are super fun stacking plush. They make the perfect stocking stuffer.Teeny Tys are bean filled and have a micro fiber bottom that can be used to clean the screens of kids devices.  Expand your Beanie Boos collection with the adorable Ty Teeny Tys. They come in a large variety of cute characters.

About Ty Inc.
Ty Inc. is the largest manufacturer of plush in the world. Peek-a-Boo's are the latest innovation from Ty. The Peek-a-Boos are not toys like their Beanie Baby predecessors. They are phone holders, made to hold smartphones upright so kids can watch videos hands-free. For more information on Beanie Boo makers Ty Inc visit http://www.ty.com
Has someone you know caught TY Beanie Boos fever? Which toys did you love to collect when you were a child? Has anyone given a stuffed animal to a senior? If so, what was their reaction?