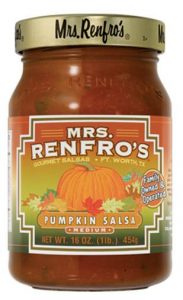 The first day of fall is officially two weeks away. I know some of you are sad to see summer end, but I can't wait for fall. There is something magical about the autumn season. Maybe it is the way nature transforms from verdant green to vibrant shades of fall color. While I love the warm days of the summer and being able to wear sandals, there's something about a soft,cardigan that brings a sense of comfort on a crisp fall day. Add in apple cider, bread pudding, warm with the smell of cinnamon and vanilla fresh from the oven, and pumpkin everything. Seems like everywhere I look this time of year I find something pumpkin flavored. From muffins at Tim Hortons, to Latte's at Starbucks, the autumn trend is pumpkin. Even Mrs. Renfro's Gourmet Salsas have gone "pumpkin."  There's no need to wait for falling leaves and brisk winds to try Mrs. Renfro's Pumpkin Salsa either. The company's 19th salsa evokes a spice mix of pumpkin pie, with a heat level registering at the medium level.

How do you eat your salsa?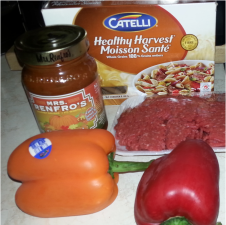 Mrs. Renfro's  Pumpkin salsas, while excellent served as the classic chips and salsa, it can also be used in soups and stews, as a sauce for turkey, pork-roast and fish or incorporated it into a healthy casserole dish.
My husband added it to whole wheat pasta, bell peppers, lean hamburger and fresh mozzarella cheese for the perfect casserole. Together this combination provided a balance of savory, and sweet. Each jar of salsa comes with a delicious recipe  for Hearty Pumpkin Salsa Soup right on the label or you can get creative and create your own recipes using pumpkin salsa.
Another way to enjoy Mrs. Renfro's Pumpkin Salsa is as a vegetable dip. Green peppers, carrots, and celery go along well with Mrs. Renfro's Pumpkin Salsa or serve it with toasted baguettes or toasted pitas. It is also good as a dressing on a tossed salad.
Pumpkin Salsa
Inspired by memorable dishes from our childhood kitchens, Mrs. Renfro's Salsas are authentic and will bring a variety of deliciously fresh ideas and flavors to your family table.
Ingredients: Tomatoes, Water, Pumpkin, Onions, Brown Sugar, Tomato Puree, Pineapple Juice, Distilled Vinegar, Corn Starch, Sweet Green Peppers, Salt, Cilantro, Jalapeno Peppers, Spices, Garlic, and Citric Acid.
Packaged in 16-ounce jars, Mrs. Renfro's Pumpkin Salsa retails for $3.69, depending on where you purchase it. It can also be ordered online through the Renfro Foods website (www.renfrofoods.com).
Choose your favorite pumpkin treat this month. Will it be traditional pumpkin pie or the newest- Mrs. Renfro's Pumpkin Salsa? How do you eat your salsa?
About Renfro Foods
Renfro Foods is a third generation family business founded 76 years ago in Fort Worth, Texas, as a packaged spices and pepper sauce business. It later expanded to include syrup, jellies, preserves and chow chow, and then salsa. Today Renfro Foods is known for its innovative line of award-winning Mrs. Renfro's salsas, which come with a simple and tasty recipe right on the label. In addition to salsa, Renfro Foods manufactures a variety of sauces and relishes, including 34 Mrs. Renfro's products distributed through leading supermarkets, gourmet foods stores and gift shops in all 50 states, Canada, the Caribbean, England, Scotland, Spain, Australia, and South Korea. For more information, please visit www.renfrofoods.com, and connect with us on Facebook (Mrs. Renfro's Gourmet Salsas), Twitter (@mrsrenfros), Instagram (mrsrenfros) and Pinterest (mrsrenfros).