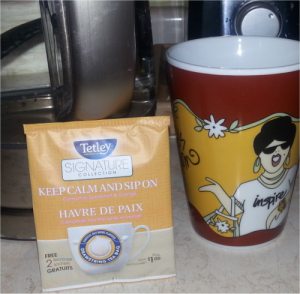 When temperatures drop and layers pile on, nothing is more soothing than a cup of Tetley tea. While I love my go-to Earl Grey on a crisp fall day,  there's a bounty of new teas that have made their way into my daily tea time rituals. Allow me to introduce you to Tetley Signature Collection teas.
The new Tetley Signature Collection includes four fun and flavorful high-quality signature blends made without artificial flavors. Keep Calm and Sip On, camomile, spearmint and orange tea is just one of the blends in Tetley's new Signature Collection. Other blends include High Tea, black tea with vanilla; Citrus Kiss, green tea with lemon and grapefruit; Mint to Be, peppermint, spearmint and apple mint tea.
Each of the teas feature Tetley's innovative drawstring tea bag. This allows for you to enjoy more flavor in your cup and less mess to clean up.
Tetley Signature Collection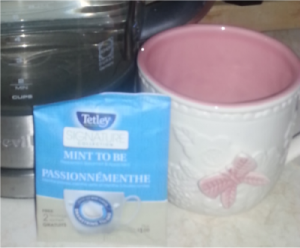 Tetley Signature Collection – High Tea: This is the perfect afternoon tea, though you can enjoy it anytime of the day.  It is a classic black tea with sweet vanilla notes. Of the four flavors, it was certainly the most elegant to enjoy. I loved the vanilla flavor and the aroma reminds me of a luxury vanilla dessert without all the calories.
Tetley Signature Collection- Keep Calm and Sip On: Brilliantly blended flavours of camomile, spearmint & orange deliver a flavorful bold well balanced blended tea.  It is the perfect finale for a well-composed meal. Spearmint and orange offers some pep to help you get through the rest of the evening, while camomile soothes and relaxes.
Tetley Signature Collection Mint tea -Combining the flavors of peppermint, spearmint & apple mint, Tetley Signature Collection Mint to Be was my favorite of the three teas I have tried.  It delivers a well rounded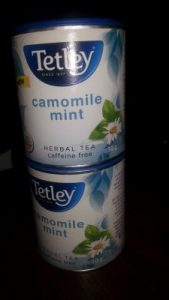 blend of minty flavors.
Speaking of mint tea, one of my favorite night time teas is the combination of spearmint and chamomile. When it comes to a nighttime tea, Tetley's camomile mint tea is a superstar.  The combination of Chamomile and spearmint has a mild relaxing effect – just enough to take the edge off nerves and calm you- making it the perfect tea for those who suffer from anxiety.
Which teas do you drink?
Tetley Signature Collection: tetley.ca