Summer is the perfect time for creating a lifetime of family memories. Picnics, and barbecues, are the dining experience that summers are made of. They are one of the best parts about summer and nothing says summer summer cooking like Renfro Foods! Since we are almost a month into barbecue season, I thought I'd share some of my favorites to dress up your summer cooking.
Relish Your Summer with Renfro Foods
Mrs. Renfro's relish takes me back to summer picnics with my parents in the 70s and my Aunt Kay's homemade relish. Mrs. Renfro's sweet and tangy concoction of corn, onion, sweet pepper, and cabbage is the perfect topping for hot dogs, hamburgers,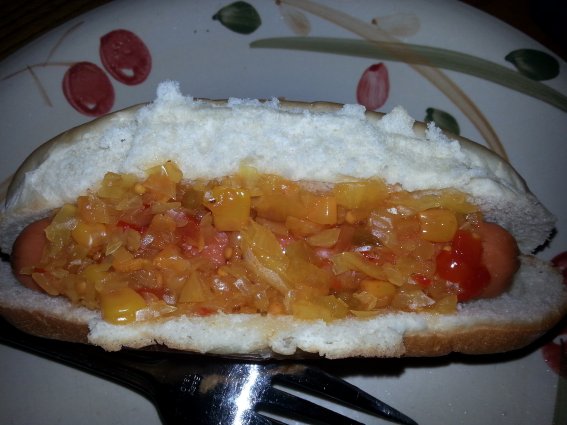 and sausages, going beyond just the basic mustard and ketchup. Plus, Mrs. Renfro's corn relish adds an extra serving of vegetables to your meal – which is always a plus in my book!
I love salads, be it lettuce salads, pasta salads, potato salads – you name it. During the summer months, pasta salad is one of my favorite dishes to prepare. It makes a great side dish to go with grilled chicken or hamburgers or it can be a meal in itself. I found Mrs. Renfro's corn relish to be a delicious addition to my pasta.
The relish is also nice served on grilled fish, salmon, and pork chops. It also shines at the breakfast table, atop fried eggs, at the dinner table on top of baked potatoes, and a nice snack served with tortilla chips.
Mrs. Renfro's Mild Chow Chow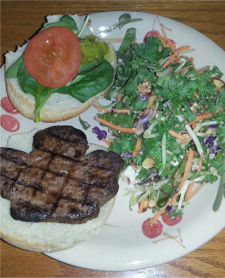 Mrs. Renfro's mild chow does not last long in our house!  This is a tasty sweet relish made with an abundance of fresh vegetables. A mix of cabbage, onion, sweet pepper, vinegar, and pickling spices, makes this classic the perfect condiment for on top of burgers, hot dogs,  sausage dogs, or as an ingredient added to summer salads. I like to add mine to Mann's slaw, along with some KRAFT Sun Dried Tomato Vinaigrette dressing.  It creates a sweet taste with a slight kick from the sun-dried tomato.  Mrs. Renfro's mild chow is also a nice topping for fish, beef hoagies, baked potatoes, or serve it with fried green tomatoes.
Ham and Pasta Salad
Ingredients
Penne pasta
1/2 cup Mrs. Renfro's corn relish
1/3 cup of Mrs. Renfro's mild chow or substitute for sweet relish.
1/2 cup diced ham
1/2 cup diced sharp cheese
2 tbsp mayonnaise
No summer meal is complete without Mrs. Renfro's corn relish and Mrs. Renfro's mild chow!
Summer Grilling with Renfro Foods

The steak and chicken on your barbecue are crying out for their own special treatment of Mrs. Renfro's new barbecue sauces. If you love Mrs. Renfro's BBQ Sauce before there are four new reasons to love it more. The sauce is now gluten-free. High fructose corn syrup has been removed and two "hot" new flavors have been added – Mrs. Renfro's Chipotle BBQ Sauce and Mrs. Renfro's Ghost Pepper BBQ Sauce. Renfro Foods chose chipotle for medium heat and ghost pepper for hot.
I am not a fan of spices, so I stuck to the classic BBQ Sauce from Renfro Foods to dress up my pork chops, fish, grilled chicken, and steak this summer.
When it comes to steak my husband is a  huge fan. He normally doesn't cook a steak without marinating it first.  The oil, herbs, and seasoning in Kraft's Italian dressing, coupled with the tangy, smoky richness of Mrs. Renfro's BBQ Sauce, creates a complex and savory flavor to our steak. And of course, steak tastes best when cooked over an open grill.  For beef be sure to add 50% Italian dressing, to 50% BBQ sauce. Mrs. Renfro's BBQ Sauce and Kraft's Italian dressing are two ingredients you want to have on hand for summer grilling.
Mrs. Renfro's tangy, robust BBQ sauce lets you deliver a delicious taste with its hickory flavor. Be sure to try some of their BBQ Sauces today.
Mrs. Renfro's Peach Salsa
Mrs. Renfro's Peach Salsa is great served with chips or as a topping for grilled salmon, chicken, or pork chops. We added it to whole wheat rice, bell peppers, and lean hamburger for the perfect dish.  I also use it as a topping for my grilled salmon, as I am not a huge salmon fan. Another way to enjoy Mrs. Renfro's Peach Salsa is as a vegetable dip. Green peppers, carrots, and celery go along well with Mrs. Renfro's Peach Salsa, or serve it with toasted baguettes or toasted pitas. It is also good as a dressing on a tossed salad. After all, salsa is the number one dip for summer.  Packaged in 16-ounce jars, Mrs. Renfro's Salsa retails for $3.69, depending on where you purchase it. It can also be ordered online through the Renfro Foods website.
About Renfro Foods
Renfro Foods is a second and third-generation family business founded 77 years ago in Fort Worth, Texas, as a packaged spices and pepper sauce business. It later expanded to include syrup, jellies, preserves, chow chow, and then salsa. Today Renfro Foods is known for its innovative line of award-winning Mrs. Renfro's products, which come with a simple and tasty recipe right on the label. Renfro Foods manufactures a variety of salsas, sauces, and relishes, including 35 Mrs. Renfro's products distributed through leading supermarkets, gourmet foods stores, and gift shops in all 50 states, Canada, the Caribbean, England, Scotland, Spain, Germany, and Australia. For more information, please visit www.renfrofoods.com, and connect with us on Facebook (Mrs. Renfro's Gourmet Salsas), Twitter (@mrsrenfros), Instagram (mrsrenfros) and Pinterest (mrsrenfros).