Brewers, grinders, mugs, oh my! Chances are good your morning begins with a cup of coffee — and so do many people on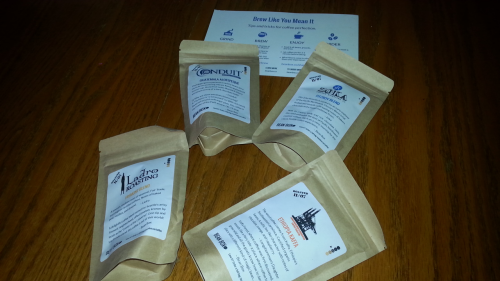 your gift giving list who will receive a gift from you. However, there is that one person on your list that is a coffee connoisseurs. And Nothing stirs a coffee snob to excitement then the simple sight of some freshly roasted beans like these ones from Bean Box.
Bean Box is a monthly coffee subscription that features sample roasts of Seattle's finest artisan coffee. For just $20 a month, subscribers receive four hand-picked gourmet coffee roasts from different top-rated roasters. Each bag has about 50 grams of coffee.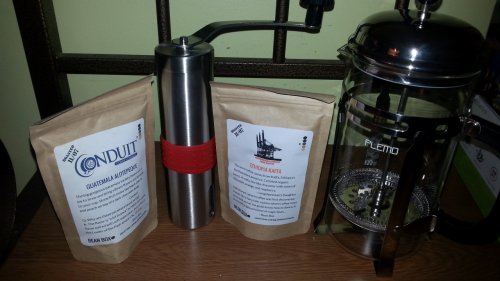 The whole beans are shipped within 1-2 days of roasting to ensure peak freshness.
Bean Box's coffee experts hand pick roasts every month, including artful blends and single origin coffees from 20 world-renowned roasters, such as Herkimer, Zoka, Vita, Ladro, and Slate. Every Bean Box features freshly-roasted whole bean coffee, tasting notes, roaster profiles, brewing tips, and an artisan treat. You are free to cancel your subscription any time.
One of the most unique features of their service is that they offer a sampler box that you can purchase to to try the service before you commit.
Guatemala Alotepeque from Conduit Coffee
I tried two of their coffees. First up was from Guatemala Alotepeque from Conduit Coffee. My first experience with Conduit Coffee Company was a success!  This medium roast is a beautiful combination of fruit and chocolate. It offers such a unique flavor from start to finish and I love the subtle chocolate flavor. As the cup cools you get nutty under tones. This adds to the black cherry, peach and sweet chocolate notes already present.
A tea like coffee
Next up is Ethiopia Kaffa from Longshoreman's Daughter Coffee. This is another medium roast coffee with a creamy body. It has distinct orange and raspberry notes with a chocolate finish. I won't pretend to be a coffee connoisseur. Sorry folks that is my son. But I do know a good cup of coffee, and this is good coffee.
Fitzroy's Blend Zoka Coffee
Is a medium body coffee that leaves a smooth sensation  on your palate. It clearly has the subtle sweet notes of chocolate with a molasses finish.
Fremont Blend Ladro Roasting
Is a medium smooth body coffee that leaves behind a tea like after taste. The acidity presents itself as a more tame pear acidity.  Fans of high-acidity coffees will enjoy this coffee. It has delicate flavors of Baked Pear, Rooibos, and Almond. It is perfect for an afternoon espresso.
Overall, I enjoyed sampling coffee from different places, and it was an added benefit that all of them came from Seattle. Though the subscription is a little pricey, the freshness is hard to beat. This would certainly make a wonderful option for someone like my son who is a coffee connoisseur.
Bean Box coffee certainly is a gift that keeps on giving.
Website: https://beanbox.co/