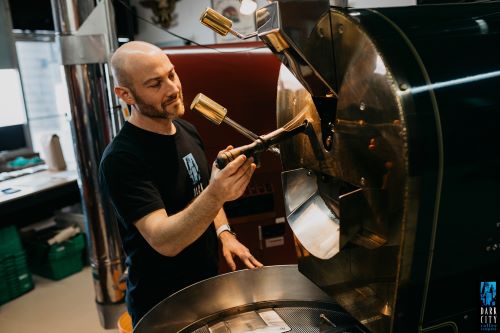 Go Cup Yourself roasts out of Dark City Coffee Company in Scarborough, Ontario. Dark City Coffee Company has been an ongoing force in artisanal roasted specialty coffee since the 1980s.
Kevin Plener got started in the coffee industry by searching inward for something he was passionate about. Coffee was top of the list.He started as a Coffee Drinker, learned to be a Coffee Roaster and became a Coffee Cupper as part of the role. In his experience, Cupping was the most enjoyable and asked about aspects of the job. While professional Cupping in a controlled, repeatable environment is integral to Specialty Coffee, it was the fun and potentially social aspects of Cupping that Kevin wanted to share.If he and you were cupping the same coffee, and you taste raspberries where he tastes green apples there was room for some laughter and a discussion.
The environment at Dark City Coffee Company is constantly presenting new, often fantastic coffee origins that Kevin wanted to share with anyone who would listen and hence, Go Cup Yourself Coffee. Go Cup Yourself was launched in 2020 to introduce curious newcomers and novices to the world of Specialty Coffee Cupping. The company's slogan is "It's About Cupping Time."Cupping" is a formalized, repeatable method of coffee tasting, used for grading and profiling coffee. Go Cup Yourself gamifies the fun parts of cupping in an interactive online experience.
Kevin states "Taking the time to truly experience the flavors in a cup of coffee is like stopping to smell the roses or deep breathing exercises, it's some"me-time" well spent. On a more practical note, it helps a coffee lover understand what they enjoy about coffee, why they enjoy it, and what Origins they may like to try in the future."
Give the Gift of Coffee.
Go Cup Yourself is an amazing gift for yourself or the coffee lover in your life, especially if you're not sure what coffee to get.
Go Cup Yourself selects the coffee, they select the roast, they ship it. The only choices to make are how to brew the coffee and how long to play the flavor wheel game, both enjoyable decisions if Kevin says so himself and he has.
This upcoming holiday season let the coffee lover in your life get started on their coffee journey with a subscription to Go Cup Yourself. Monthly subscriptions are roasted and shipped on the second Wednesday of each month, so coffee is always fresh.
Choose a three-month subscription or a monthly subscription than can be canceled anytime. A three-month subscription of coffee is the perfect gift to give a coffee lover. It allows them to get started with Go Cup Yourself and then continue their subscription on their own.
You can choose your roast be it light roast, medium or dark. You can even select your grind.
On each bag of coffee is a QR code on the bag that you scan with your phone. Did I mention how much we despise QR codes? This QR code takes you to their website where you can go through a virtual tasting! That is if you can get your phone to scan the code. Or skip the hassle of scanning all together and go right to the cuppy wheel. Enter your brew method on the website, then pick out your tasting notes using their handy wheel. Finally, once you have finished sampling the coffee, you can compare the notes that you detected with those the experts came up with.
My Thoughts
PANAMA – BOQUETE FINCA BAJO MONO
Region: Boquete
Elevation: 4400+ feet
Varietal: Catuai, Caturra
Process: Fully washed and Mechanical Dryed
Certification: Strictly Hard Beans
Harvest Start Month: December
Harvest End Month: March
My first month subscription was Panama Boquete Finca Bajo Mono. I like my coffee light and smooth and this roast was just that. I could taste notes of brown sugar and grape. It was definitely a smooth tasting coffee.
EL SALVADOR – FINCA RUMANIA
Region: El Congo, Santa Ana
Varietal: Bourbon
Growing Elevation: 3900+ feet
Process: Natural
Certification:Rainforest Alliance, Strictly High Grown
October 2021's subscription roast was El Salvador Finca Rumani. This blend was a very smooth, easy drinking coffee. On the nose, I got hints of fruity and spicy which blended nicely. I couldn't pinpoint the smell of fruit.I thought pear. Upon dripping I could smell chocolate notes. The sweetness and notes come forth very well when coffee cupping.There is a bit of aftertaste, but this isn't a bad thing.
Both of the coffee's I have tried were a lighter roast and a nice after dinner treat. I wouldn't select it as my get up and go morning coffee.
If you have been reading up until now and you have no idea what Coffee cupping is let me explain; it's the practice of observing the tastes and aromas of brewed coffee.
The three month Gift Coffee Subscription includes three coffees (1lb/month for three months) and a Rhino Cupping Bowl and Spoon to get your recipient in the mood to Cup themselves.The Rhino Cupping Bowl is excellent. You can use it for coffee cupping or for food portioning like we do. It is the perfect size.
Overall, supporting a company like Go Cup Yourself helps the coffee industry at large. At this moment in time, it is more important than ever to think really critically about where our money is going. Should we continue to support a worldwide, multi-billion dollar company that stretches across 4 continents or should we support a small local Canadian company brewing great coffee? Sure $30 a month for coffee may seem to be a lot to spend, however when you factor in what you spend at big chain coffee shops Go Cup Yourself equals to 64 cents a cup of coffee. I think someone should go cup themselves.
https://gocupyourselfcoffee.com/
Facebook: GoCupYourself
Instagram: Gocupyourself
iBusiness: Go Cup Yourself
Go Cup Yourself Coffee Subscription Giveaway
Kevin and I got talking via email and he has decided that one lucky winner should go cup themselves. He is giving away a 3 month subscription to one lucky Canadian winner. So what are you waiting for? Enter below!
Giveaway is open to Canadian residents. No purchase required to enter.  You must complete the mandatory entry. One person per household may enter. Winner is drawn at Random using a Giveaway tool. Winner will be notified in the giveaway post and via the email provided with the winner's entry. Winner must reply within 48 hours.  If a response is not received within 48 hours from when the original email was sent, the winner will be disqualified and another winner will be drawn. Today's Woman is not responsible for shipment of any prize offered in a giveaway. Shipment of prizes is the responsibility of the Sponsor. Today's Woman will not be held responsible in the unlikely event that a winner does not receive their prize from a Sponsor.  Today's Woman will do everything possible to try to assist a winner in receiving their prize. Odds of winning the giveaway is  dependent upon the number of entries received.