The best gifts for Children are the gifts that foster reading. Turn story time into an interactive learning experience with Hot Dots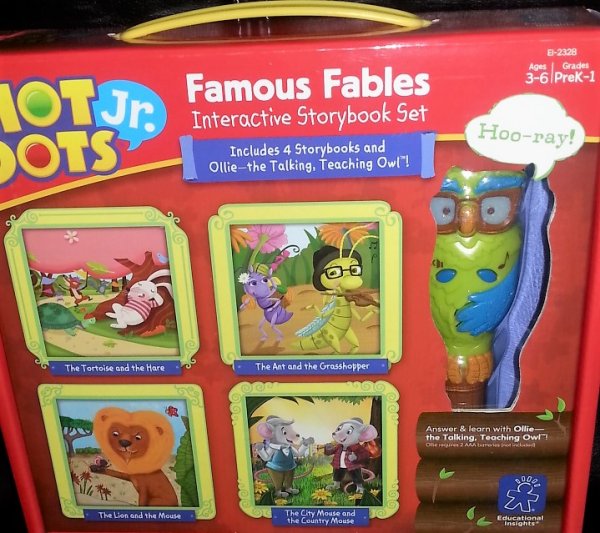 Jr Famous Fables Interactive Storybook Set. For ages 3-6 years this set includes four beautifully illustrated, 24-page classic storybooks. The books are The Tortoise and the Hare, The Ant and the Grasshopper, The Country Mouse and City Mouse, and The Lion and the Mouse.
Each story includes 11 interactive early learning activities that will help your children master important skills. Questions asked for example are How can the mouse cut the rope? It gives your child four examples. Using the included Talking Owl pen kids click on the correct answer in the story.
These storybooks help support the understanding of numbers and counting; making comparisons; understanding patterns and rhyme; color recognition, teaching shapes, matching and and other early learning skills crucial for school success.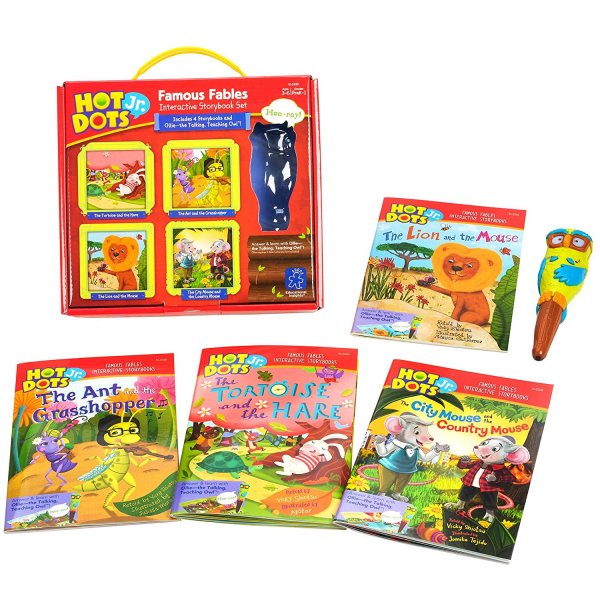 Ollie the talking owl will help guide you and your child through the correct or incorrect responses and is a huge motivator to kids when they see Ollie's eyes light up green when your they choose a correct answer. The Ollie Owl pen has 17 speech & sound-effect responses.
With Christmas just around the corner, I for one can't imagine a better time to introduce a Hot Dots set to your child. If your child is older, and needs something a little more challenging, make sure you check out all of the Hot Dots sets available through Educational Insights.
About Educational Insights:
Educational Insights is a leading manufacturer of innovative learning toys and games. Based in sunny SoCal, for more than 50 years, the company's mission has been to create out-of-the box learning experiences filled with sheer joy and uncontrollable laughter. Educational Insights' playful and inventive lines of toys and games are sure to delight, and certain to satisfy kids' natural curiosity. Their award-winning brands include Hot Dots®, GeoSafari®, Design & Drill®, Playfoam®, and Nancy B's Science Club™; and their best-selling games include The Sneaky, Snacky Squirrel Game™, Blurt!®, and Kanoodle®.
http://www.educationalinsights.com