It is that time of year again- hugs and kisses all around. This is obviously the sweetest of all holidays. Besides spending time with my husband, I love pulling out the Valentine's Day books, cuddling up on the couch with my daughter and reading a book or two.  We are celebrating Valentine's Day this year by adding three new Valentine's Day books for kids to to her collection of every growing books.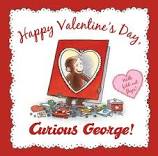 Happy Valentine's Day, Curious George- George and his friends celebrate Valentine's Day with decorating, baking, card making and some unexpected amusement along the way!  Just how much mischief can one curious little monkey get into? This book is actually a tad shorter than some of the other curious George books my daughter owns. My  daughter loved being part of the story by opening the flaps in the book. This was a huge plus. The illustrations in the book are colorful and overall the story was a cute read. The book definitely went over well with my little Curious George fan.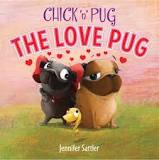 Chick 'n' Pug: The Love Pug- Chick and Pug are back-this time in a more romantic backyard adventure perfect for Valentine's Day and all year round! When a new neighbor visits, Chick can hardly believe his eyes. Her name is Daisy, and she's BEAUTIFUL! She would be a perfect match for his best buddy, Pug. Daisy is instantly smitten, even if Pug doesn't seem to notice. She'll need to get creative to win his affection, but when Pug finds himself in a pickle, Daisy's quick thinking saves the day and proves that even the most stubborn pugs are capable of true love. Fans of the Chick 'n' Pug series will love this new addition. The illustrations are clever and bring life to the text. Overall, my daughter and I enjoyed the book and look forward to reading more books in the series.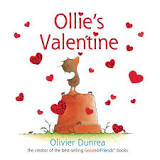 Ollie's Valentine- Up next comes a new board book in Olivier Dunrea's Gossie & Friends series! You may recognize Ollie from "Ollie's Easter Eggs".  In Ollie's Valentine, adorable duckling Ollie wants a valentine. He keeps asking his friends, but discovers they all already have their valentines. Who will be Ollie's? A surprise mirror on the last page holds the answer. The colorful foil hearts in the book adds a texture that toddlers will want to rub their fingers over. Fans of the Gossip and Friends series are sure to love this latest addition. Overall, the book was a really cute read.

Do you have any book suggestions?
Website:raincoast.com