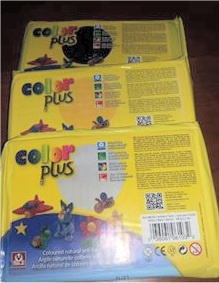 Color Plus Air Dry Clay is a colored air drying clay that is natural and self-hardening. Once dry, the clay achieves the strength, hardness and solidity of ceramics which have been fired. The clay is non-toxic, odorless and the color won't stain your hands.
We made hearts with our Color Plus Air Dry Clay, but you can use the clay for all kinds of ceramic projects. It is really easy to mold, and doesn't require any baking at all.
Color Plus Clay Hearts
Once your clay is of the correct moisture content you are ready to begin rolling it out. Roll out a slab of clay about 1/4 thick. A cutting board or ceramic tile makes an ideal surface for rolling your clay. You can also roll it out on a sheet of wax paper. Should the clay lose its plasticity, slightly wet the clay with your hands. Mix different colors of Color Plus clay together to create an infinite array of hues. Color Plus Air Dry Clay is available in six colors white, red, green, blue, yellow and black.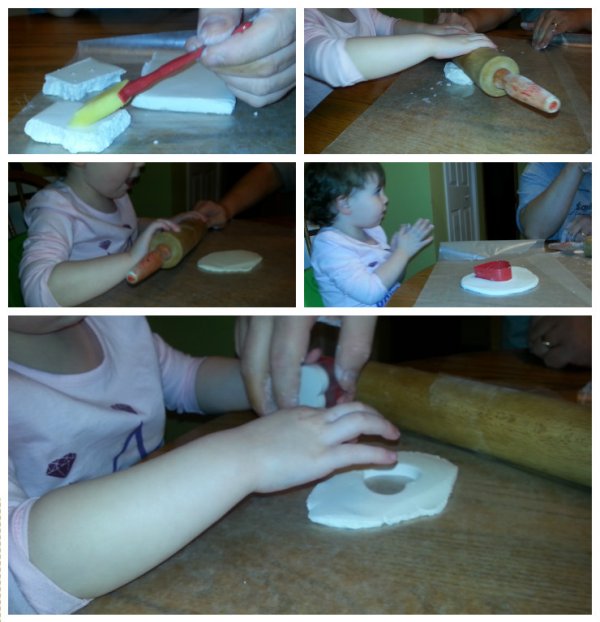 One of the easiest ways to make a heart shape is to use a pre-made heart-shaped cookie cutter. Just press the cookie cutter into the flattened clay right down to the work surface. Keep a finger on the cookie cutter to prevent it from moving around as you peel away the excess clay around the shape.
You can find all kinds of materials around your home to imprint texture onto your clay hearts. You can also use the end of a pencil to write out a word like "love." We chose not to imprint our hearts.
If you see any rough or ragged edges on your hearts take a little water on your finger and smooth these out. If you are going to hang the hearts then make a hole just before the cleft of the heart.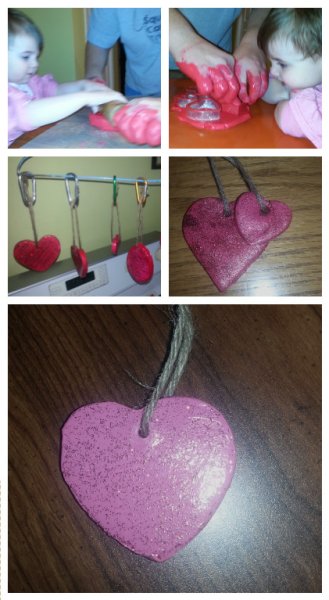 Let dry completely. If there is a rough edge when dry, use an emery board to lightly sand them out.
Next you are ready to paint or decorate. Color Plus color clay has an appealing look left as it is, but all kinds of effects are possible using acrylic paint,.
My daughter chose to paint her hearts and apply glitter to some. After the paint was dry, her father sprayed the hearts with a clear acrylic spray to seal.
My daughter loved this craft and it was super easy. Halloween is just around the corner. We are going to make air-dry-clay bats.
Overall, Color Plus Air Dry Clay is a great clay that has good a plasticity. You can mold, sculpt, stamp, and even thrown the clay on a potter's wheel.
Air Dry Clay Bat Instructions
Take a lump of clay and roll it out to the desired thickness. Punch out as many bats as required. Take a pencil and make holes for hanging. Let the bats dry for 1-2 hours and paint the bats with acrylic paints, let dry and glue on googly eyes. To enhance strength, add a varnish finish to make waterproof.
If you would like to see craft projects made with Color Plus Colored Clay then please visit their projects page or video page.
Website: activaproducts.com