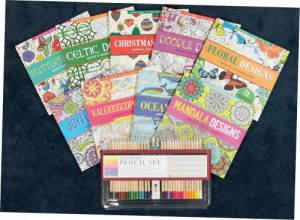 Contrary to what you may think, coloring is not just for children. Coloring books bring a great deal of stress-relief to a growing number of adults. Taking a crayon or colored pencil to paper triggers and stimulates the brain areas associated with motor skills, creativity, and the senses. As stress relievers, these adult coloring books are truly helpful in lowering blood pressure, reducing anxiety and assisting in helping you learn to relax and unwind.
Studio Series Adult Coloring Books
Set your inner artist free as you immerse yourself into the Studio Series of adult coloring books from Peter Pauper Press.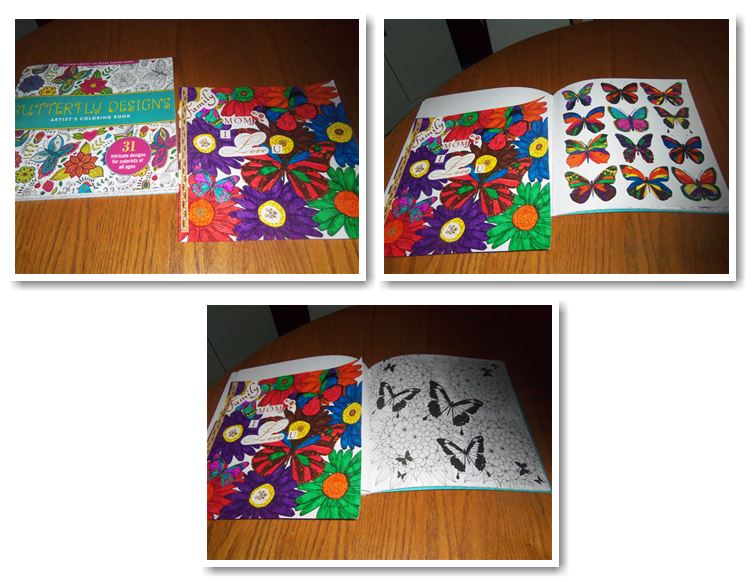 The acid-free art-grade paper helps preserve your work.  While the designs are printed on only one side of the page, so there is no bleed-through.
Each page is micro-perforated for ease of removal and display of your creative masterpiece! Each Artist's Coloring Book measures 9-1/2 inches wide by 9 inches high (24.13 cm wide by 22.86 cm high). Binding lies flat for ease of show.
Traumatic brain injury (TBI) can significantly affect fine motor skills. My daughter has been using the adult Coloring Books from "Peter Pauper Press" as part of her traumatic brain injury rehabilitation.
"For me coloring has been very soothing, allowing me to deal with anxiety," said Megan. "For me, coloring is a form of meditation." Megan states that she never really listened to classical music, but pairing classical music with coloring gives her focus and seems to change her mood.
These adult coloring books not only serve to help someone, such as Megan take part in a relaxing activity they are also enchanting works of art, unleashing one's own creativity.
If you haven't tried coloring yourself, why not grab a couple of these adult coloring books and a new set of pencil crayons.  I'll bet you'll be surprised at the fun you'll have.
Professional Colored Pencils
Peter Pauper Press carries a diverse supply of coloring books, along with the Studio Series Colored Pencil Set. The pencil set is the perfect companion to the coloring books.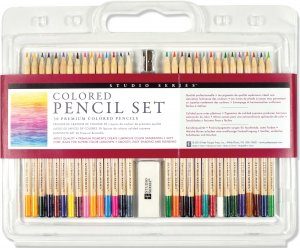 Ideal for art and design projects, crafts and adult coloring books, the set boasts a full range of colors to enhance ones art.  30 pencils cover a wide array of hues. The Premium colored pencils have soft-core leads that shade and blend beautifully. Inside each kit you will also find a sharpener, eraser and basic tips for using colored pencils
We find the pigments to be vibrant, making your images come alive. The pencils glide smoothly and evenly, blend well, and sharpen up nicely compared to other color pencils we have used.
This is the perfect color pencil crayon set for the fall back to school season. They're a bit more expensive than popular offerings  that are made for younger students, but they're still a good value.
Unlike most student pencils, the Studio Series Colored Pencil Set comes in a plastic reusable case with handle for easy
transporting to and from class.
So you colored, now what? Marisa uses these lovely Joyful Designs Coloring Book to upcycle into lovely crafting ideas! See her post at Five Ways To Upcycle Colouring Books.

Peter Pauper Press offer a wide selection of art supplies for home, school or office.  Christmas is right around the corner. We have added the "Studio Series Watercolor Crayon Set" and "Roll Up Canvas Pencil Wrap" to our Christmas wish list.
Have you tried your hand at adult coloring books?