Although modern toys and games can be exciting, why not get back to basics this holiday season with fabulously fun dramatic play toys that will remind you of your childhood. Are you looking for play vanity accessories for your daughter's toy vanity? With "My First Beauty Bag" from International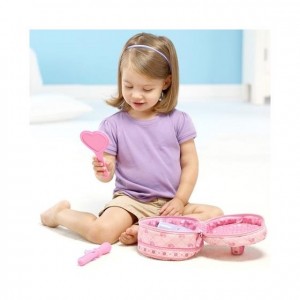 playthings young stylists can brush, comb, and curl their clients hair. The battery-powered hairdryer sounds like the real thing. Satisfied clients can then check themselves out in the plastic hand mirror when finish!
This is a cute set that encourages creative play and motor skill development. All the Kidoozie's beauty items are specially designed for small hands making this the perfect set for my daughter who is just shy of three.
The soft zippered travel bag stores all 7 pieces and is a nice addition, which makes clean up quick and easy. The toy hair dryer requires 2 AA batteries (not included), so make sure you have a tiny screwdriver on hand come Christmas morning to insert the batteries.
For added fun, add in some hair clips, water bottle and plastic bottles from the dollar store. Grab some empty nail polish bottles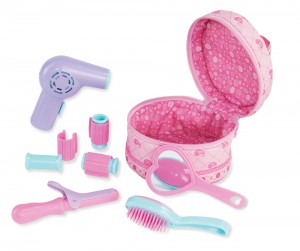 and set up a manicure station as well.
For kids who are uncomfortable with hair cuts, hair salon play will help make children more comfortable in the environment of the salon.
My Beauty Bag Set Includes:
Pretty travel bag
Hair dryer that sounds like a real hair dryer
3 Curlers
Hair brush
Curling iron
Hand-held mirror
My daughter loves styling mommy's hair and the "My First Beauty Bag" is the perfect pretend play hair accessory kit.
Since its inception in 1967, International Playthings, LLC has excelled in the delivery of innovative and entertaining products with integrity, superior play value and child developmental qualities to consumers. Over the course of its 40-year existence, IP LLC has grown to become one of the largest and most respected suppliers of quality products to the North American specialty industry.
Website: intplay.com