Parties can be great fun for our kids, but they can also be incredibly stressful. The pressure to throw the perfect birthday party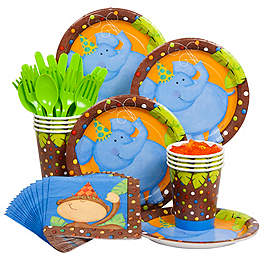 has become overwhelming for parents. My first rule of thumb is to keep it simple. When it comes to throwing a birthday party I believe in simplicity. One way the perfect party can be achieved without great effort is by ordering wholesale party supplies.
You can get all the materials you need – balloons, plates, utensils, napkins, party hats, etc. – from one party supply shop.
In fact, you can even do all your birthday shopping at WholesalePartySupplies.com, so there's no need to scour different stores in your area and beyond to find the items you need.
When planning a birthday party it is also best to choose a central birthday party theme. Having a theme in mind eliminates a great deal of hassle when it comes to decorations.
If your child is turning one or two, a jungle theme is always a winner at this age. You will find that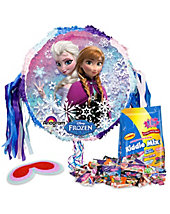 WholesalePartySupplies.com have helpful suggestions for jungle themed party packs, decorations and more.
If you need party inspiration for the little lady in your life, look no further. A Disney Frozen Themed Birthday Party is today's standard for the best birthday. Other popular choices include, Minnie Mouse, Sophia the first, and Doc McStuffins. While, Despicable Me, Paw Patrol, Teenage Mutant ninja Turtle, Pokeman and Mickey are popular among boys.
A pinata is a must have for any birthday party. They're great to help the kids get rid of some of their pent up energy. The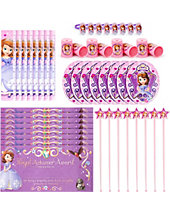 piñata Kits at WholesalePartySupplies.com come with all the necessities needed, so there is no need to make a stop at the dollar store for candy. They carry a vast collection of themed piñatas as well as wide variety of unisex piñata kits.
Don't forget about the ever so popular loot bags. From this mom's perspective, these goody bags, also known as loot bags, can actually be a bit of a headache and expensive. Normally I drop by my local Walmart or dollar store to see what I can find. While browsing WholesalePartySupplies.com, I noticed that they sell wholesale candy at affordable prices. You can get a bag of burger gummies with 40 pieces inside for just $6.99. Kids young and old love gummies. Be sure to also check out their great selection of Favor Toys and party favor sets.
Melissa & Doug- Best Birthday Gifts for Kids
WholesalePartySupplies.com not only offers good deals on party supplies, but they also sell toys. They have some of the best toys for birthdays! When it comes to choosing the best gift for my daughter I want to give her girl's toys that are fun, as well as educational.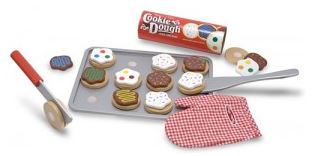 Age two begins a wonderful time of imaginative play! Pretend play can be more exciting than ever with wooden play sets from
Melissa & Doug. Melissa & Doug have grown to become one of the most popular toy makers in the world having received several "best toy" awards over the years.
The Melissa & Doug Wooden Slice and Bake Cookie Set lets children pretend to bake, decorate, and serve cookies. My daughter is obsessed with cookies and cupcakes and this play set made a great gift. This colorful wooden set includes 12 slice-able cookies, 12 toppings and tools for safe, imaginative play.
Kids can use the accessories and attach each cookie to the cookie tray, and once "baked" they can decorate the cookies with the toppings. The set also includes a cookie sheet, cardboard tube, plastic knife to slice the cookies, spatula, and an oven mitt. The cardboard tube is big enough to contain both the cookies and the toppings making storing easy. Even little boys would have playing with this set.
My daughter has no trouble placing the Velcro cookies on the tray or placing the frosted toppings on the cookies. I love that they are Velcro, so they stay on the cookie sheet enabling her to pretend she is putting them in the oven without them falling on the floor. My only negative point about the set is that I would have liked it built smaller, so it would fit into my daughter's pretend kitchen set.
Overall though, I am pleased with the set. It has certainly kept my daughter entertained and I have enjoyed playing with this set with our daughter.
It's nice to see that WholesalePartySupplies.com carries well named toy brands like Melissa & Doug. The ease to be able to purchase decorations, games, baking pans, invitations, loot bags, edible cake toppers and a birthday gift all in one place now makes Wholesale Party Supplies my go to party store. The best part, I don't even have to leave my house. Now if only they baked the cake and through the party. I guess they have to leave something to mom and dad?
Be sure to like WPS on Facebook.