Monopoly is celebrating it's 80th birthday with Monopoly 80th Anniversary Edition Board Game. Monopoly has been a favourite board game for family and friends in one form or another for over a century. Originally created by Charles Darrow in 1933,  who made a prototype of the new game using materials from around his home. He used a piece of oilcloth that had been a table covering for the game's board, cut the houses and hotels out of scraps of wooden moulding and typed the deeds and cards. The early mover tokens were actually charms from his niece's charm bracelet.
On March 19, 1935, Parker Brothers acquired the rights for the MONOPOLY game from Darrow and began selling the game shortly after in the United States. Within a year of the release of the game in the U.S., 35,000 copies of the game were being made each week.
Over the years, the packaging has gone through many revisions and specialty editions, and has evolved to the ones we play today with many different versions and themes available.
Despite the alterations in look and style over the years, the fundamental and rules of the game have remained virtually unchanged.
In celebration of Monopoly 80th anniversary, Hasbro Inc. has teamed up with social news and entertainment company BuzzFeed to ask fans of the popular game to choose which great cities around the world will be featured as property spaces in the new Monopoly Here and Now: World Edition game launching soon.
Currently storming the leader board are Ligma, Riga, Istabul, Hong Kong, Wardsaw, Beltfast, Anthens and Cape Town. You have until Wednesday, March 4th to vote. The cities that have made the winning board will be revealed on March 19, Monopoly official birthday.
To vote for your favorite city, visit the Vote MONOPOLY website. Only the top 20 cities will make it on the board, so go vote!
I am a huge monopoly fan, and have been since I first played the game as a child. I passed my love of the game onto both my children who are huge Monopoly fans; my son perhaps more than my daughter.
In celebration of Monopoly's 80th anniversary, Hasbro has given this popular property trading game a makeover. This Monopoly edition is extremely unique, as it has gone back to its roots over the years by making some very nice subtle changes.
The first change in the Monopoly's 80th Anniversary edition is a nice retro grade board and playing cards for community chess and chance. These are all themed like the original 1930's version. The game also includes a collection of game tokens that Monopoly has featured over the years, from the 1930's all the way to the present, including the recently-introduced cat.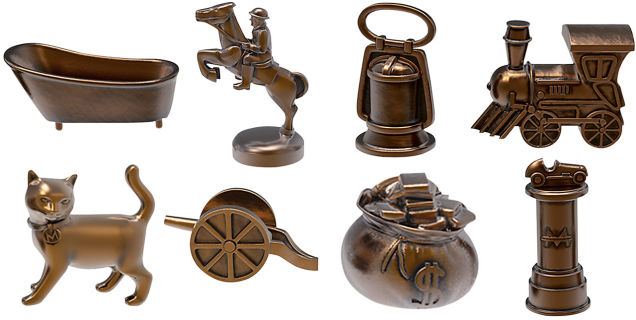 The hotels and houses are even tweaked, giving them them a nice classic look. The houses are made of wood , instead of the red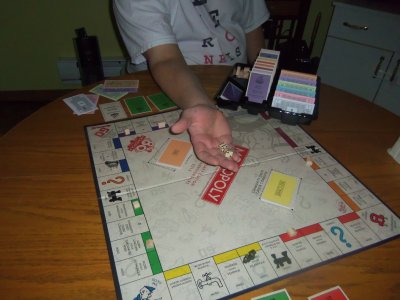 and green houses that we grew custom too.
The game Monopoly still has its classic traps like "Go to Jail", that you will have to avoid while throwing the dice, and of course with some luck, you will navigate around the game board with not landing on an opponent's property, where you may have to pay a massive rent bill.
The key tricks to winning any Monopoly tournament and bankrupting your opponents is to buy as much property as you can afford, and sell and negotiate with other players to win at this 80th anniversary version of Monopoly!
The Hasbro Monopoly's 80th Anniversary edition includes: The monopoly game board, 8 tokens, 28 title deed cards, 16 Chance cards, 16 Community Chest cards, 32 houses, 12 hotels, 2 dice, 1 pack of Monopoly money, 2 dice and game guide.
Whether fans play face-to-face, on mobile, online or participate in casino or lottery gaming, there is a MONOPOLY experience to fit every lifestyle. Learn more about the MONOPOLY brand at monopoly.com and join the conversation at www.facebook.com/Monopoly.
Hasbro, Inc. (NASDAQ: HAS) is a branded play company providing children and families around the world with a wide-range of immersive entertainment offerings based on the Company's world class brand portfolio.
From toys and Hasbro games, to television programming, motion pictures, video games and a comprehensive licensing program, Hasbro strives to delight its customers through the strategic leveraging of well-known and beloved brands. Shop hasbro.ca.