I recall playing Perfection back in the late '70s and early 80's. It is hard to believe that it has been around that long. The original Perfection game was patented by the Harmonic Reed Company (later Reed Toys) in 1973. The patent was later transferred to Lakeside Industries before being purchased by Milton Bradley. Today Hasbro owns the rights to the game. Over the years though new versions of the game have been launched and the game I loved as a child has undergone new looks. Nonetheless, the excitement and the thrills never stop. Through USAopoly partnership with Hasbro the company has released a Disney-themed version of the game. Can you beat the clock before the pieces go pop? The Disney Perfection Board Game comes with 20 Disney-themed pieces.
The 20 pieces of the game are:
Minnie's Bow, Mickey's Ice Cream Bar, Disney Park Train, Sweet Treat, Carousel, Partners Statue, Princess Crown, Monorail, Grizzly Park, Ear Hat, Disney Parks Castle, Mickey Mouse, Mad Tea Party Attraction, Disney Cruise Line Logo, Spaceship Earth Attraction, Tree of Life Attraction, Hollywood Tower Hotel, Space Mountain Attraction, Haunted Mansion Attraction, Dumbo the flying elephant attraction.
You play for 6 minutes trying to beat the clock, placing each of the puzzle pieces in their designated spaces before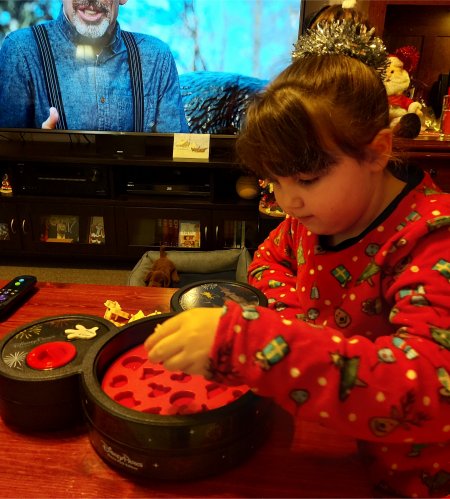 the time runs out and it blows up tossing the 20 pieces. This may sound like an easy task, but when the clock is winding down the anticipation waiting for that pop sound can have you on the edge of your seat.
Perfection Disney Parks Edition can be played as a group or solo.It doesn't require batteries, plus the unit has storage compartment to store the pieces inside. The game is suitable for ages 5 and up. If you do allow younger children to play be sure to supervise. The small pieces are a choking hazard.
We had a fun time playing Perfection and the Disney theme is a nice addition to our various board game collections.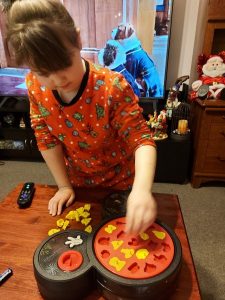 After all with Coronavirus and lockdowns we all need a little fun and excitement in our lives. Why not add to your family game night?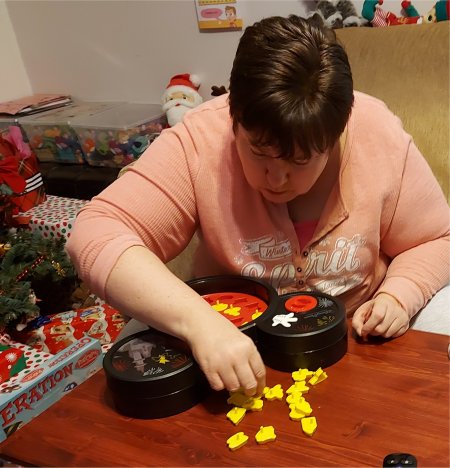 About USAopoly®, Inc.
USAopoly (The OP) celebrates 25 years as a leading publisher and manufacturer of board games, collectibles, and puzzles! Our diverse portfolio includes award-winning and best-selling titles such as TELESTRATIONS®, TAPPLE®, HARRY POTTER™ HOGWARTS BATTLE™ and BLANK SLATE™, as well as licensed versions of MONOPOLY®, CLUE®, MUNCHKIN®, TRIVIAL PURSUIT®, CODENAMES, and more. The OP continues to partner with marquee brands and licensors such as Disney, Nintendo, Warner Bros., Cartoon Network, HBO, FOX, HBO and CBS. We are passionate about creating memories through games that bring together family, friends, and fans who love to play!