Hasbro has something for everyone this Easter
Avoid sugar overload this Easter with these chocolate-alternative Easter gift ideas for preschoolers from Hasbro Playskool.
What childhood would be complete without a Mr. Potato Head? The toy is a classic rite of passage for most preschoolers. Taken back to my own childhood, I fondly remember hours spent making funny faces with a Mr. Potato Head doll and giggling at the results.
Mr. Potato Head was the first toy success story for Hasbro and the first toy to be advertised on television, paving the way for millions of other toy commercials in the decades since. Today, the Mr. Potato Head toy is one of Hasbro's most cherished characters with more than 100 million toys sold in more than 30 markets around the world.
And even though Mr. Potato Head now has many friends, faces and disguises, he still proves to be one of the classic toys that

has stood the test of time. Perhaps it is because, there aren't too many toys that are as unique as Mr Potato Head. Whether it is just a different expression on his face, or placing his lips in his head, your child will be intrigued by the many characters they can create with just one toy.
My daughter's sporty Mr. Potato Head figure is as fun as the classic that I remember as a child, but now he has legs and even more holes for parts. The moment that we took Mr. Potato Head out of the box my daughter was intrigued.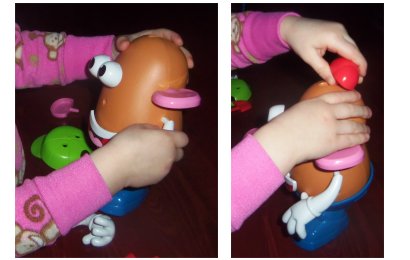 As a parent, I love that Mr. Potato Head, encourages development of fine motor skills, creativity, social and emotional development and imagination. He is a wonderful tool for engaging preschoolers, such as my daughter in answering what and where questions, such as "Where are Potato's shoes?"
Obviously, Mr. Potato head is also wonderful as a tool for identify body parts, as he does have eyes, arms, a nose, mouth and feet. As well as identifying the name of each part, my daughter will also learn to put the parts in the correct spot, something she has not quite mastered, but we are working on it.
Mr. Potato head has a lot of parts, so once the fun is over, I can help encourage clean up by placing all the parts in the back of Mr. Potato head's pants.
All in all, Mr Potato Head is a classic toy that can teach fine motor skills, body parts, and colors; what's not to love? It is all around good fun.
Instead of using Mr. Potato Head plastic body, children can also use a big ball of play dough! Play-Doh persists as one of the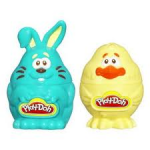 most well known and popular children's "toys," being responsible for kids learning their colors and bringing out creativity since its invention in 1956. Play-Doh officially joined Hasbro as part of the Playskool line in 1991 and celebrated its 50th anniversary in 2006.
Today the compound comes in a variety of colorful packs and fun play sets. From Play-Doh spring eggs that come in 4-Pack to Bunny and Chick Stampers, Hasbro has a number of different choices for spring-themed creative fun.
Play-Doh treat without the sweet bunny and chick stampers: Recommended for preschoolers aged 3 and up- the Play-Doh Treat Without the Sweet Bunny & Chick Stampers set comes with two stamper figures: a bunny
and a chick. Each holds two ounces of Play-Doh inside. Then, look under their feet – you'll find stamps for creating fun shapes! When you're done, you can store your Play-Doh Modelling Compound inside them until it's time to play and create again! These are fun toys for kids that are wonderful alternative to Easter candy.
Play-Doh Spring Eggs: Perfect for egg hunts, these fun egg containers and their Play-Doh Modelling Compound let you shape, mold and create anything you can imagine!
Play dough provides superb learning opportunities for children. As your preschoolers hand coordination increases, so does their interest in simple things such as play-doh. My daughter just turned and I have not yet introduced her to play-doh, but I will be including some play-doh single cups to her Easter basket.

What are your kid's favorite classic toys?
What do you think about Play-Doh Treat Without the Sweet Bunny & Chick Stampers from Hasbro?
Hasbro, Inc. (NASDAQ: HAS) is a branded play company providing children and families around the world with a wide-range of immersive entertainment offerings based on the Company's world class brand portfolio. From toys and games, to television programming, motion pictures, video games and a comprehensive licensing program, Hasbro strives to delight its customers through the strategic leveraging of well-known and beloved brands. Visit hasbro.ca.
Related articles