Children normally begin to start dressing themselves with different levels of coordination and difficulty around 18 months – 2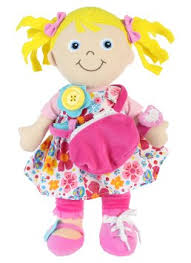 years old. By three years of age, most toddlers get dressed all by themselves. They however, still may need help with Velcro, snaps, zippers, and buttons. One way to help your child learn to dress is to give them lots of opportunities to practice. Learn to dress dolls provide children with the perfect tool for just that. There are various learn to dress dolls available on the market that has zippers, buttons, snaps, laces, and buckles exactly for this purpose. One such doll is Kidoozie Dress Me Emily, a 15 inch plush doll with an embroidered face and lots of learn-to-dress activities.
Kidoozie Dress Me Emily
Kidoozie Dress Me Emily features include a Velcro on one shoulder, and a button on the other shoulder of the dress, loop belt on waist of the dress,

Velcro back closure, Velcro closure shoe, Velcro closure wrap around watch, lace up sneaker, and a zippered purse. Unlike other dress me dolls on the market, both Emily's dress and purse are removable. The shoes do not come off, so you don't have to worry about your daughter losing them. We also found Emily to be super soft, making her a great cuddle toy for bedtime or nap time.
My daughter is able to pull up zippers by herself and she is able to do up Velcro without assistant, therefore these features on Emily posed no difficulty. She was also able to remove Emily's dress all by herself. She has yet to master the belt loop, button or shoe lace and she has difficult putting the dress back on, but those features will come the more she plays with Emily. The shoelace is a bit advanced for her at this stage, but will serve as a wonderful teaching aide when I begin to teach her how to tie her own shoes.
I love that everything is sturdily attached, and Emily is holding up very well to play. The button is still secure, which is the one piece I was worried would fail! The button whole needs to be stretched a bit. Putting the button through the hole did pose a challenge.
Kidoozie Dress Me Emily is appropriate for ages 12 months and up and can be purchased for $19.03 on Amazon.
Website:  intplay.com