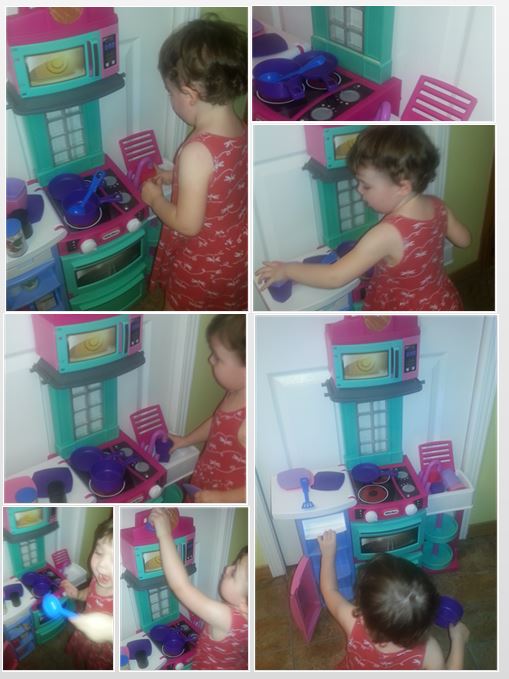 Fun is always on the menu when your child is in the kitchen. Play kitchens in general are a fantastic gift idea for both boys and girls. Gone are the days though when kitchens for kids used to cost a fortune. Nowadays, you can find a toy kitchen set for under a $100.00.
Play kitchens can take up a chunk of space in your home though. If space is a problem for you, the Little Tikes Cook 'n Store™ Kitchen, available in colors appealing to both boys and girls, may just be the answer.
This kitchen comes fully assembled, which is fantastic if you are anything like my husband or I- and you despise assembling toys. As previously mention this pretend play kitchen is compact and stylish, and perfect if you are limited on space.
It is also an affordable role play kitchen, compared to some of the more expensive brands on the market. If you are looking for 1st kitchen set for a younger child, this is a good option. How great is that for such a small set?
Play kitchen accessories such as pots are usually not included with kitchen sets, but the Cook 'n Store Kitchen comes with utensils, pots, food, and more!
Despite its smaller size, it has plenty of storage space, as well as a microwave, double oven and stove top with clicking knobs, refrigerator, sink, dish drainer, counter-top, and spinning shelves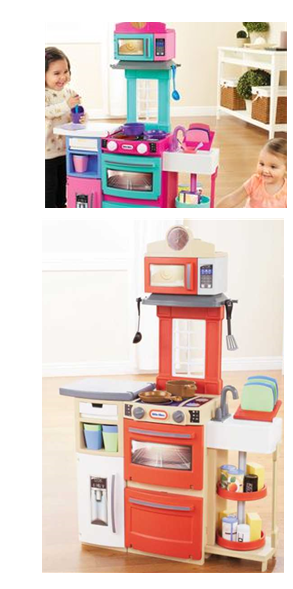 for storage.
One huge plus is that the kitchen can pack up into a tiny space- making storing the kitchen not played with a breeze. Also with the fold up factor the kitchen can fairly easily be transported to grandma's house.
It takes about a minute to open and close it.
While the kitchen is designed for children ages 18 months and up, my niece who is just shy of one took a great interest in the kitchen. My daughter who is just shy of three also had fun playing with her cousin's new kitchen. She absolutely loved the lazy Susan.
Overall, we think it's the perfect size for toddlers and preschoolers who might find a standard kitchen to be a bit too big. Since this kitchen is made to be portable and easy to store, it isn't built quite as solid as some other kitchens might be, but that should not deter you from purchasing by any means.
If you're looking for a play kitchen set for your toddler, consider the Little Tikes Cook 'n Store™ Kitchen.
Features:
• Kitchen come fully assembled!
• Compactly folds for easy storage
• All accessories store inside the kitchen
• Lazy Susan with two shelves
• Clicking oven and stove top knobs
• Includes 32 accessories"

You can purchase the Little Tikes Cook 'n Store Kitchen from the Little Tikes website and most retailers where Little Tikes toys products are sold. Be sure to check out their full line of Little Tikes play kitchen sets.
About Little Tikes
The Little Tikes Company is one of the world's leading creators of infant, toddler and preschool products that promote the mental, emotional and physical well being of kids everywhere.  For more than 40 years parents have trusted Little Tikes to create safe, durable and quality products from role play and sports toys to furniture and outdoor products as well as ride-ons, including one of the world's best selling cars – the iconic Cozy Coupe®.  Founded in 1969 and headquartered in Hudson, Ohio, Little Tikes remains a proud and passionate leader in providing "Made in the USA" products which playfully stimulate the imagination and celebrate the wonder of childhood and parenthood.  Little Tikes® products are available at leading retailers across the US, Canada and in more than 100 countries.  For more information visit www.littletikes.com.