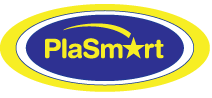 Play mats have been around for decades. They are an area for your child to occupy while they play with their toys. They are often found in daycare's and junior kindergarten classrooms, but more and more parents are using them at home too.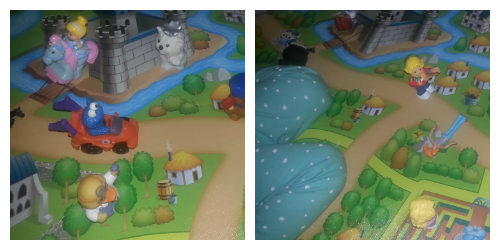 Unlike  interlocking foam mats, Plasmart Smartmat multi purpose play-mat combines learning and playing. Measuring 78″X46″, the Smart Mat is ideal for use with your child's own toy cars, trucks and more and is perfect for daycare or home use. Available in two options, Castle Town or new Happyville, the rug is durable enough for both indoor and outdoor. It also provides a smooth, but soft play surface for both children and baby. Imagine how funny tummy-time would be for baby with so many visual images to discover.
Each Play Mat from Plasmart is made from EVA coated foam making it easy to wipe messes away and gives it a padded feel.

Because it is made from EVA the mat does have a bit of a distinctive vinegar-like odor when you first use it, so you may want to air it out first. For those concerned about the odor, EVA is widely the safer substitute for PVC.

The mat is quite large, so it easily covers a good chunk of our living room floor, but it rolls up for storage, so the size is only a minor issue. Plus, having a large mat allows more than one child to use it at the same time, which will be great when my niece comes to visit.  I have recommended Smartmat to a few parents with babies instead of the interlocking floor mats.
The Castletown play mat is such an "open ended" toy that really enables my daughter's imagination. Hours of fun have been had without her  leaving the border of the Castletown play mat, which features a colorful scene of medieval streets and buildings for imaginative play. She likes to set up her Little people figures on the mat and drive her cars through the winding roads. It has certainly become one of her favorite pastimes – and even mommy and daddy get in on the action sometimes!
The mat does arrive rolled up in a large tube when ordering, so you have to let it sit out with a few toys on the corners, so it looses the rolled shape it has from the packaging.
Overall it is a great mat that provides hours of fun.
We have teamed up our mat with Wonky Wheels. Wonky Wheels is a finger car that can help your little one work on their small motor skill. You push it along with your finger, and is ideal for children 3 years or older, which was perfect for my daughter who will be 3 in February. The Wonky Wheels Finger Car does not travel on a straight line, so it can be frustrating for kids at first, until they get the hang of it.
I love toys that help kids learn without realizing they're learning. Wonky Wheels would make a wonderful stocking stuffer.
The funny thing is I had initially plan on giving the Wonky Wheels to another child as a gift, but my daughter bug me for days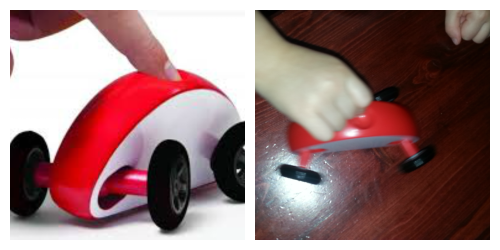 after it arrived that she wanted to play with it. Once she finally got her hands on it, there was no giving it up.
You can learn more about the Smart Mat and Wonky Wheels by visiting the PlaSmart website!
About PlaSmart Inc.
PlaSmart is a global toy distributor specializing in smart, simple, and fun products that bring families together. PlaSmart's products include the popular Plasma family of riding toys: PlasmaCar,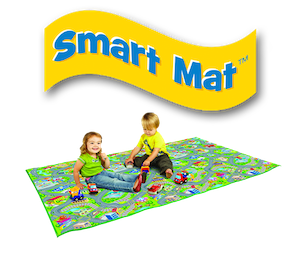 PlasmaBike, and the new PlasmaBug; Ninja Cards, Morphology, Squashed and many other popular children's toys and games. PlaSmart's products are available on five continents and in more than 60 countries.For more information visit www.plasmarttoys.com