For over 30 years Little Tikes has brought safe, durable toys to our children, putting imagination into motion. The company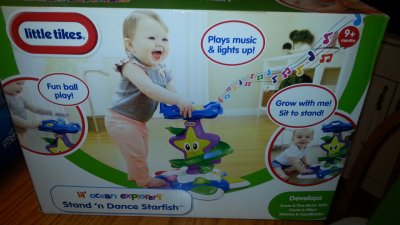 recently launched a brand new line of infant toys called Lil' Ocean Explorers. This new line of toys are designed to encourage growth milestones in your baby's first 18 months, from sitting, to crawling to standing up.  The " Little Tikes Lil Ocean Explorers Stand N Dance Starfish" is a wonderful gift for kids ages 9-36 months. The Stand 'N Dance Starfish tower inspires your baby to create music and then dance along.
Light and sounds are always very attractive for babies and by combining these two elements on the starfish tower, Little Tykes has created a toy that will not only be enjoyed by the little ones, it would also help with sound and light recognition and action and reaction skills.
The base of the toy features a light-up keyboard that can be played by little hands when sitting or by little feet when standing and dancing. Your little one will learn to pull themselves up by using the curvy tower, then chase after the balls they drop down the spiral, which helps with eye-hand coordination. The middle part of the toy features an adorable starfish design. The Stand 'N Dance Starfish tower Includes 4 balls for put-n-take ball drop tower. Another great feature of this toy is that it helps your child learn colors and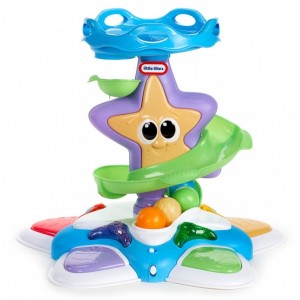 shapes.
I gave the "Little Tikes Lil' Ocean Explorers Stand 'N Dance Starfish tower" to my niece for her 1st birthday and she absolutely loves it. Though my niece is already walking, she still enjoys chasing after the balls, and the bright colors and music.
I have found that the tower can be a little unstable, so you will want to be around your little one if he/she is just learning how to pull them-self up and is completely relying on the tower for support.
The toy needs 3AA batteries (not included) and there is two volume options. There are also two music /light modes so you can switch between the two and keep it more interesting for your little one.
With the holidays coming up  the " Little Tikes Lil Ocean Explorers Stand N Dance Starfish" makes a great gift!
For more information, visit: www.littletikes.com.