A new survey from Parents Tested Parents Approved (PTPA) released by Mega Bloks found that 83 per cent of parents say they run out of ideas to keep their child engaged during playtime, and two thirds rely on screen time to fill the void. Mega Bloks– Canada's leading educational construction toys made for preschoolers – understands and empathizes with parents' need for help in keeping their toddlers busy, engaged and learning.  Mega Bloks has created a line of cognitive construction toys to promote toddlers' growth and development…because when children build with their hands, they're also building up their minds and imagination, which is key to early learning.
Mega Bloks take things to new levels time and time again, by introducing new ways for kids to play with their products. Canadian-made in Montreal at North America's largest toy factory, Mega Bloks are the perfect building blocks for early childhood learning and assist with physical, creative, cognitive, social and language development. They create stimulating experiences from stacking tall towers to manipulating components and discovering new shapes and sizes with toys like the Big Building Bag and Block Scooping Wagon.
MEGA BLOKS, Mega Fun
Block Scooping Wagon – ages 1 to 5 years
Little builders can expect lots of fun surprises with Mega Blok's brand new Block Scooping Wagon! This colorful classic combines wagon play and construction fun with an element of surprise. The wagon picks up blocks as your little one pushes the wagon over them. The blocks spin around inside the clear compartment as a child pushes the wagon along on its big sturdy wheels. Available in two different colors, suitable for boy or girl, the Blok Scooping Wagon includes 20 First Builders blocks for tons of construction fun. You can even build directly onto the wagon's handle. My great niece received the Block Scooping wagon from my nephew for her 1st birthday and she absolutely loves it. The handle is just the right size that even a child as young as 1 can pull it and  the wagon glides without difficulty.  It should be noted that it doesn't scoop the bloks as well as expected, but nonetheless my niece still has fun with the wagon and bloks.

Friendly Farm – ages 1 to 5 years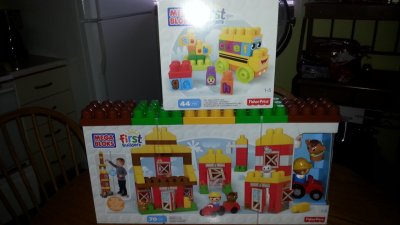 The Friendly Farm interactive building block set includes everything you need to introduce your toddler to the wonders of learning, building, and imagination! Its eight panel-style blocks help children build taller and faster. Re-arranging the panels lets them build the farm in different ways. Imaginative play for children continues with detailed blocks that bring the farm scene to life. Including a barn, stables, a chicken coop and characters, little hands can open up the world of Farmer Block Buddy.
First Builders ABC Spell School Bus
The First Builders ABC Spell School Bus is a 44-piece preschool building set that includes alphabet stickers for kids to place on the colorful and chunky blocks. The Big colorful blocks designed especially for little hands makes learning ABC's fun for your little one and encourages roll play. Your little one can build a school bus with the provided wheelbase, blocks, and real rolling wheels. The lid of the package doubles as two building and stacking base plates. Children will delight in pushing their created school bus around for hours of imaginative play.
Big Building Bag – ages 1 to 5 years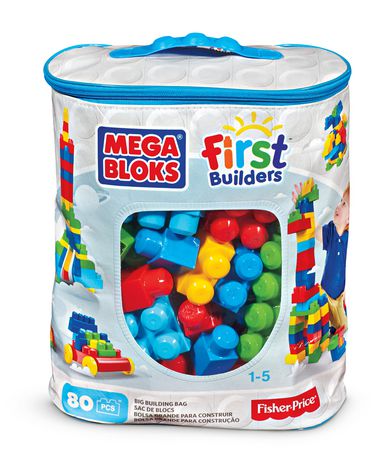 Mega Bloks original hero product, the award-winning Big Building Bag offers amazing play value and endures hours of fun. Ideal for ages one and up the Mega Bloks Maxi are large making them easy for small hands to assemble, and parents can breath easy knowing that they won't pose a choking hazard.The practical eco-friendly storage bag keeps all of the pieces securely in one place and comes with a hand-strap making it perfect to take to grandma's house.
Move 'n Groove Caterpillar – ages 1 to 5 years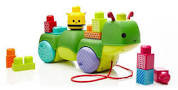 Get ready to discover wiggly fun and musical sounds with the Move 'n Groove Caterpillar by MEGA BLOKS. Pull this adorable wheeled caterpillar along, and music will play as building bases magically appear on its back! This happy little critter comes with seven blocks in new colours and patterns, as well as an adorable buildable bumblebee that little ones can stack on the caterpillar's back for building on the go!
My daughter is almost 3 and loves her Mega Bloks, which gives her the opportunity to stimulate her imagination, creative abilities and learning skills while encouraging discovery, hand eye coordination and open-ended play.  Playing with Mega Bloks also promotes a sense of achievement. as she builds a tall castle for her Little People.
While most Mega Bloks sets are made to interest both boys and girls, some sets are designed for a specific gender. For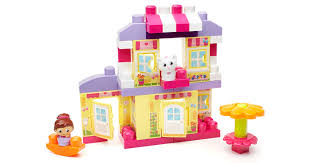 Christmas my daughter asked Santa for the "Mega Bloks – First Builders Cozy Cottage."  Designed with little girls in mind the set includes 40 pieces. The Mega Bloks First Builders Cozy Cottage contains six panels and can be built up to two-feet high. That is especially wonderful for kids like my daughter who love to build tall towers.  The  "Mega Bloks – First Builders Cozy Cottage" is also compatible with other Mega Bloks First Builders sets – so this is a good first set and even a good additional set.
About MEGA Brands
A member of the Mattel family of companies, MEGA Brands Inc. is a trusted collection of leading global brands in construction toys, games & puzzles and arts & crafts. They offer engaging creative experiences for children and families through innovative, well-designed, affordable and high-quality products. MEGA® Brands includes MEGA BLOKS®, RoseArt®, MEGA Puzzles®, MEGA Games® and Board Dudes®.
For more information, please visit www.megabrands.com and www.megabloks.com.
About Mattel
The Mattel family of companies (Nasdaq: MAT) is the worldwide leader in the design, manufacture and marketing of toys and family products. Mattel's portfolio of best-selling brands includes Barbie®, the most popular fashion doll ever produced, Hot Wheels®, Monster High®, American Girl®, Thomas & Friends® and Fisher-Price® brands, including Little People® and Power Wheels®, MEGA® Brands, including MEGA BLOKS® and RoseArt®, as well as a wide array of entertainment-inspired toy lines. In 2013, Mattel was named one of the "World's Most Ethical Companies" by Ethisphere Magazine and in 2014 ranked No. 5 on Corporate Responsibility Magazine's "100 Best Corporate Citizens" list. With worldwide headquarters in El Segundo, Calif., Mattel's companies employ nearly 30,000 people in 40 countries and territories and sell products in more than 150 nations. At Mattel, we are Creating the Future of Play. Visit us at www.mattel.com, www.facebook.com/mattel or www.twitter.com/mattel.