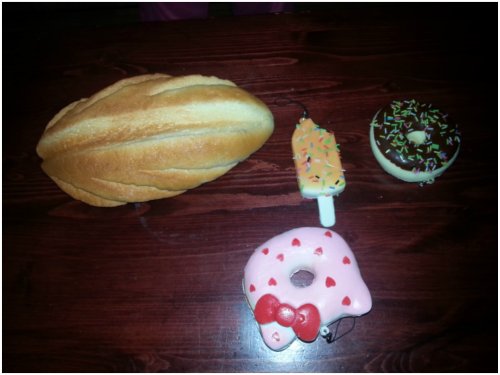 Get ready for the new toy craze among kids! Have you heard of squishies? Honestly, I'll be surprised if you haven't. Originating in Japan, the latest toy craze features small soft foam toys. They are the newest version of the stress ball, yet softer and more "kawaii" (the Japanese word for "cute"). Their scent makes the experience even more fun. Now, just in time for Easter, your children can experience the magic of Slow Rise Squishies, available  exclusively at Showcase stores across Canada.
The larger food Squishies, are a great addition to my daughter's play kitchen. I couldn't get over how much the Slow Rise Squishy Panini looks and smells just like real panini baked fresh from the oven. With a soft and super slow rising effect, your child can pretend that the dough is rising, as they proceed to bake up some fresh bread in their play oven.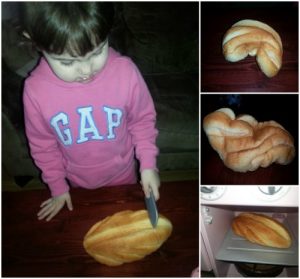 The Slow Rise Squishy Frosted Donut Charm looks as delicious as a real donut! The charm comes with an elastic strap, so kids can attach it to their school bag or anywhere they like!
Who could resist a orange cream Popsicle? The popsicles are decorated with colorful sprinkles and look so yummy that you almost want to take a bite!  All the smaller size squishies are attached to a cell phone strap.
Squishies are tactile and fun for kids to "squish" over and over, hence the name. Add in the sweet scent and you have a multiple sensory toy that can be quite irresistible and perfect for pretend play.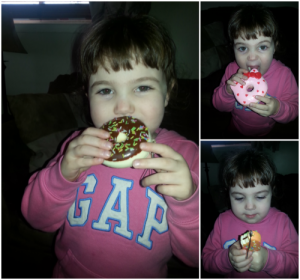 All four squishies we own are really detailed with lots of texture. Showcase has a whole range of realistic food squishies with everything from squishable bread, to cakes, donuts and macaroons. The donuts and Popsicles feature some great bright colours and a fun splattering of toppings.
The Hello Kitty doughnut, is covered in red hearts! There's also lots of pink icing and her trademark red bow. This is a smaller charm, so great for your phone or bag.
Search the word "squishies" on YouTube. The Slow Rise Squishies phenomenon have become a global online video sensation with nearly 400,000 "squishies" videos featuring the many varieties of collectibles, with fans of all ages declaring their love and obsession with these irresistible squishies. On YouTube, kids, and even adults, trade squishies, and show off their squishy collection.
"A single YouTube video featuring squishies has generated more than 7.8 million views, highlighting the popularity of the craze," says Samir Kulkarni, CEO of Showcase. "When it comes to recent cool new toys: first it was Shopkins, then it was Hatchimals, now it's Squishies."
Prices for Slow Rise Squishies range from $19.99 to $9.99. You can visit one of Showcase's 103 stores across Canada to experience the irresistible sensation of Slow Rise Squishies first-hand or view their collection and order online at www.squishies.ca.