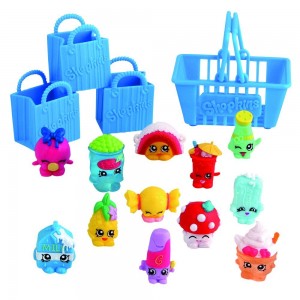 Meet Shopkins — the newest collectable toy craze that my daughter is crazy about! Crazy enough that I have driven two hours (there and back) just to purchase hard to find Shopkin characters.
Shopkins are super cute, super tiny, grocery characters, which are making a huge splash. Over five million Shopkins characters are made every week.
The brand has attracted a strong online fan base, garnering 13 million views on Shopkins webisodes and over 400 million views on Shopkins fan videos.
Shopkins Blind Bags
Part of the fun of collecting Shopkins is that element of surprise. When you purchase a package of Shopkins, you are always given at least one 'blind bag/basket'. These 'blind bags/baskets' are sealed in an opaque bag, making the Shopkin a complete surprise upon opening.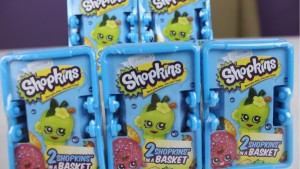 Included with each 'blind bag/basket' is a checklist of all of the Shopkins available. The checklist is divided up by category, such as fruit and veggies and bakery. These everyday grocery themed items are made more appealing to children by being made in bright colours and given adorable names on the checklist, such as 'Rockin Brock,' which is actually a head of broccoli.
The problem with purchasing any collectible blind bag toy, is that it is very easy to end up with duplicates. My daughter actually has a lot. But she trades them with her friends and they have trading groups online, where one can trade or sell your Shopkins duplicates.
Shopkins Playsets
The Shopkins line also offers themed playsets, such as the So Cool Fridge, Small Mart, Fruit & Vegetable and Bakery Stand. These playsets expand the fun and lets kids interact with the Shopkins in a new way.
The Shopkins™ Small Mart by Moose Toys was just awarded the "2015 Girl Toy of the Year" at the TOTY Awards ceremony, held in New York City on February 13, 2015.
My daughter owns the Shopkins Bakeshop. As part of the bakery aisle, this playset comes with two exclusive Shopkins characters and two shopping bags. Place a Shopkins in the playset's side mixing bowl and press down on the donut's top to make your Shopkins spin. Or place one or two Shopkins in the basket and swing them back and forth. The playset also features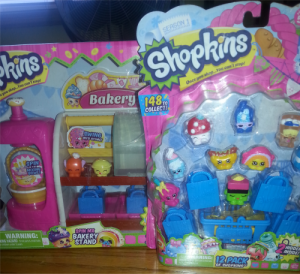 display cases and trays, where you can house and store additional Shopkins.
We have brought in other size-appropriate toys to further the role play fun. Additional playsets connect to each other, allowing her to build a complete Shopkins world.
The highly-anticipated Season Two has over 140 new characters and four new themes, including Baby Bits and Shoes to Choose, featuring new flocked textures, details and surprises.
Crystal Shopkins character
Shopkins, is gearing up for the upcoming launch of Shopkins Season Three. To celebrate the launch, Moose Toys revealed a priceless, one-of-a-kind character made entirely out of crystal. The crystal Shopkins character, named Gemma Stone, was on display at North American International Toy Fair in New York from February 14-17, 2015.
Following its appearance at Toy Fair, the crystal Shopkins will be auctioned off online later in the year. All proceeds from the auction will benefit the Toy Industry Foundation, a nonprofit organization that distributes toys to undeserved, at-risk and homeless children around the world.
The brand continues to grow with the launch of Season Three, which will be available come fall. Over 140 new characters will join the Shopkins family, along with new playsets, including the brand new Scoops Ice-Cream Truck playset, which will be one of the feature lines in the range, and the perfect playground for old and new characters to come.
Easter is less than two months away.  Shopkins blind bags would make a wonderful addition to your child's Easter basket.
Visit www.moosetoys.com for more information.