Have a Bat-fanatic on your shopping list? Whether it's your best friend, roommate, brother, husband, son, or even yourself, N.J. Croce Co has a wide range of Bat goodies for lovers of every generation. Check out these Batman 1966 collectibles.
Racing out of the Classic TV Series and into your home is the Batmobile! This 1:24 scale replica includes bendable Batman and Robin figures in a sitting position. No Bat-cave is complete without it! One thing to note: The wheels don't move.
Bam! Pow! Whack! Based on the classic 1966 Batman television series, the Batman '66 Retro Action Figures set comes with Batman, Robin, Catwoman, The Penguin, and The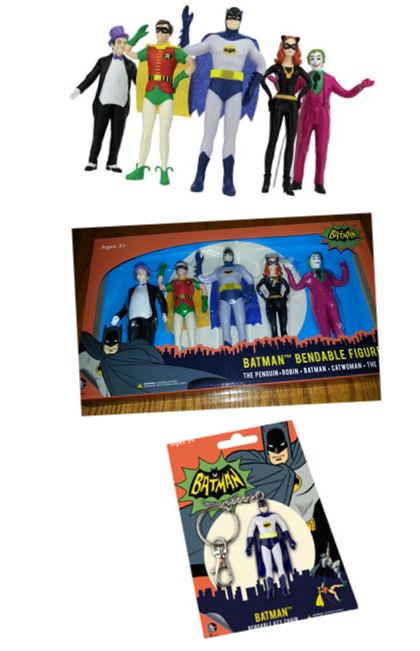 Joker.
Each of the bendable figures feature authentic details, which all resemble their television counterparts. I found the set to be more detailed than what I expect, from bendables. For the adult collector, this would be the perfect gift.
The 5 1/2-inch-tall bendables remind me of the days when my brother was glued to the TV watching "Batman."
Fans of Mego's Bend n' Flex figure from the 70's will appreciate the Batman Boxed Bendable Set, taking them back to their childhood. Dad will be proud to share this set with a new generation of batman fans. Then again, he may decide to proudly display these figures on a shelf, far away from small crime fighters' hands.
There are also Batman, Robin and key chains that would make great stocking stuffers.
Catering to both children and adults, NJ Croce offers toys and gifts featuring famous comic and cartoon characters. Find your favorite characters on bendable figures, clocks, key chains, apparel, and more.
Website: http://njcroce.com
How big of a batman fan are you?