Can you believe Caillou is 25 years old? It doesn't seem like that long ago my son and daughter, who are now adults were watching Caillou.
First, introduced to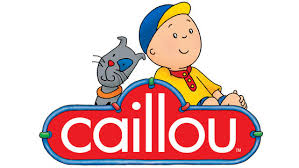 the world in 1990 by Canadian author Christine L'Heureux, Caillou has become a cultural icon.
The TV series ranks #1 on 24-hour preschool television channel Sprout. The series, which is based on the books first aired on Canada's Teletoon channel in 1997; it later made its US debut on PBS in 2000 and aired its series finale on October 3, 2010. The show also began airing on Treehouse TV on September 7, 2009.
The series blends animation and live-action segments, as four-year-old CAILLOU, grows alongside his young audience,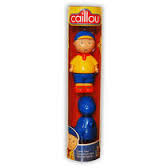 accommodating them on their journey, as they learn about themselves and the world around them. In each episode, Caillou and his friends confront an age-appropriate concept relating to social literacy and child development.
Caillou has received numerous awards, including the New York Festivals Bronze World Metal.
My soon to be three year old was recently introduced to Caillou through Netflix and while there has been a great deal of controversy over the years with several parents griping about the show, this fairly simple cartoon captivates my daughter's attention, just as it did my older children some 20 years ago , while teaching real life lessons in a way that a young child can comprehend.
In response to children, like my daughter's overwhelming interest in Caillou, educational toys have been developed as a fun way to encourage further learning.
Through the new toy line from Imports Dragon, kids can go along with the 4-year-old character and bring Caillou's adventures to life. Caillou toys let kids re-enact their favorite moments from the animated TV series.
My daughter already owns two of the Caillou Collectible Figures- Caillou and Rexy, which are just the right size for my daughter
to play with. The toys come apart, so your child can have fun putting Caillou's head on Rexy's body.
My daughter also owns a Caillou doll. It was on my quest to find a boy doll that I actually stumbled upon this gem from Imports Dragon. When it comes to play, it should definitely not be split by gender. For those looking for a boy doll for their son or daughter, the Caillou doll is a sure winner. Designed for pre-schoolers 3+, this adorable, talking doll brings Caillou to life.
Measuring approximately 36 cm (14 inches), Caillou wears his preschool uniform with removable red ball cap and green backpack, which open for storage. Give him a hug, and he'll talk to your child, encouraging interactive play. Caillou even offers a few basic French lessons, such as how to say "Thank you" en français. Caillou says nine different expressions in total. As a parent I appreciate the dolls added educational value. My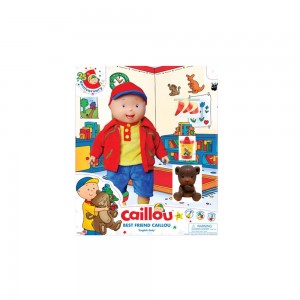 sister-n-law was so impressed that we owned a Caillou  doll that I had to introduce her to
Standing 16 inches tall, Caillou offers 15 different experiences to discover. Squeeze Caillou's stomach to hear him tell you what he needs. Insert the pretend sippy cup or snack into his mouth. Care for him by helping him put his jacket on. Press his hand to hear the Caillou theme song.This interactive doll is the ultimate 25th Anniversary Caillou toy.His mouth even moves when he talks.
Caillou Build Your Own Pizza Set
Whether you have a play kitchen in your home or not, play foodis a great part of child's play. Food play is a huge part of my daughter's play.
Under our Christmas tree this year will be "Caillou Build Your Own Pizza." Designed for children aged 3 to 5, the set includes a pizza pan, utensils and a toy pizza crust, which is divided into different slices; along with tons of toppings to let your child to personalize the pizza however they like, just like in the episode "Caillou the Chef."
In the episode, Caillou learns that everybody likes a different type of Pizza. After your child is done watching the episode, invite him/her to make their own Pizza (just like Caillou and his
Independent, pretend play is crucial for young learners, and what better instruction tool than pizza? Putting back the pizza together is fun and improves puzzle-solving skills! Children can further their play with Caillou Build Your Own Pizza," by playing chef and server by taking orders, creating custom pizzas, and serving guests.
This holiday season preschoolers all over the world will be delighted to receive their own Caillou toy from Imports Dragon's collection. No more searching high and low for the perfect preschool toy, as they have you covered.
Founded in 1998 in Canada, Imports Dragon is now the fastest-growing toy & game distribution and Manufacturing Company in Canada with offices in Toronto, Boisbriand, Shenzen and Hong Kong. The head office, showroom and warehousing facilities are located in Boisbriand, Quebec. Imports Dragon is the manufacturer for important brands such as Caillou, Johnny Test, Shopkins, Trash Pack, Zelf, Max &Ruby, Franklin & Friends and many others. Imports Dragon works closely with partners across the globe in order to manufacture and distribute products with well know licenses to the world. importsdragon.com.