Zipperoos by Wiggles 3D Inc. is sure to be a welcome addition to your child's game collection this upcoming holiday season.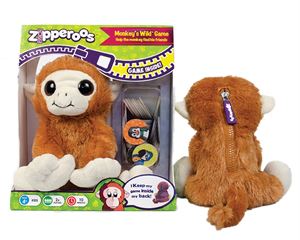 Available in Monkey or Frog, Zipperoos combine portable game and the fun of a plush animal in the same toy.
Inside the zipper of Monkey's Wild, which is located on the back of each character, are 63 circular cardboard pieces. Each has a picture of an animal on the chip.
You spread out all the chips on the table. Players take turns by either taking a face-up chip or flipping a face-down chip (taking it if it's one they need). Each player can only keep three chips at any time. If you take a fourth chip, you must return one and leave it with the animal facing up. The first person to collect 3 sets of 3 matching animals wins. Monkeys are a wild chip, so they will match with any animal you need them to.
The game is age-appropriate, and moves along quite quickly, allowing for multiple plays. For a longer game, you can try collecting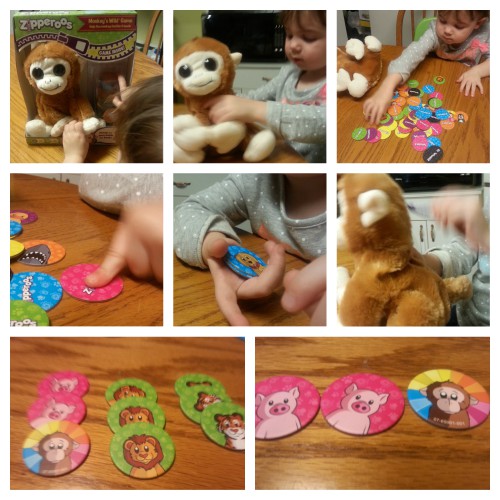 four or five sets. Recommended for children age four and up, the game provides a great deal of educational opportunities as well, such as advanced thinking, decision-making, color recognition, hand/eye coordination, and problem-solving.
My daughter who is just shy of 3 enjoyed pairing the animals into different sets, which helps her build her memory and recognition skills.
We didn't play the game as instructed, but more as a single player mode-matching game, which she loved. Of course- the monkey appealed to her as much as the game, which she now calls- The Monkey Game.
Each Zipperoos plush has a zippered pouch in its back, making clean up simple and easy. Children can store their new game inside their animal friend.
Board games such as Zipperoos are excellent for a child's cognitive development. Children learn best when they are engaged and having fun.
What are your family's favorite board games for young children?
About Wiggles 3D
Wiggles 3D was created by Don Reid. Inspired by his quotable father, Don developed the first board game, Don't Quote Me, a game about famous quotations. This game set the bar for creating entertaining, rewarding and award-winning games. Each product we add to the Wiggles 3D family broadens our selection and offers fun to people of all ages and interests.
Today, Wiggles 3D games continue to grow. They remain committed to continuing to innovate both through new games created in-house and through co-branding and licensing with game developers."
Website: www.wiggles3d.com