For over hundreds of years, dream catchers have been used to "catch" and trap bad dreams and foster good ones in their place. The Native American folklore legend is that the dream catcher would catch one's dreams during the night. Hung near a window and it is said bad spirits or dreams would get caught in the dream catcher's webbing and disappear with the morning sun. Meanwhile, good dreams would find their way to the center of the dream catcher and float down the feather to sleeping children. Children would thus be protected from nightmares. Dream-catchers are also believed to bless the sleeping one with harmony and good luck to follow them throughout their lives. Today, Dream-catchers serve as a symbol of Native American culture in general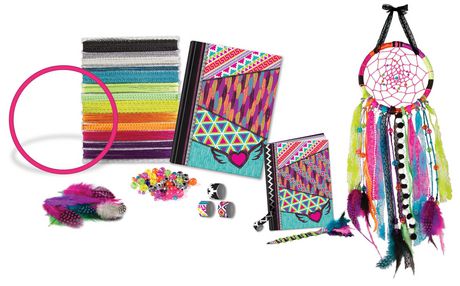 Thanks to Fashion Angels, it is now possible for your daughter to make her very own dream catcher. At first glance the dream catcher kit by Fashion Angels is instantly appealing. The box is brightly colored with a picture of an absolutely stunning completed dream catcher.
Upon opening the craft I thought to myself that this craft was going to take some time to complete, but I was up for the challenge.
The kit includes a plastic hoop (the base of the dream catcher), patterned tape, string, beads, tassels, in so many beautiful colors and textures. The instructions indicate that the craft is targeted at children eight years of age and up. My personal opinion is that the craft might be too difficult for someone as young as eight without some parent assistance.
My daughter is seven and the craft was too difficult for her to complete on her own, so I decided to make it a mother and daughter project.
To make your dream catcher: You wrap the colored thick string around the plastic hoop. Then the thin string is weaved through the center of the hoop to create the web-like design. We attached a few beads in the web. Then the many different long pieces of fabric are attached to the bottom. You then attach beads, feathers, lace, and colored string to the bottom. Our dream catcher turned out beautiful!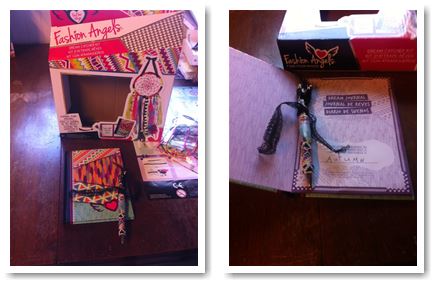 Included in the set is a beautiful dream journal and pen for your daughter to record her good dreams.
My daughter told me that by hanging this Dream Catcher in her room, she will have only good dreams from now on.
Sweet dreams!
– Tanya
About Fashion Angels

Fashion Angels is the leading designer and manufacturer of tween girls' lifestyle and activity products with offerings ranging from Arts & Crafts kits, jewelry making sets and fashion design portfolios as well as girls fashion accessories, hand bags and room décor items, which are marketed under the company's Style Lab by Fashion Angels brand.