If there is one toy that has stood the test of time and has been asked for Christmas after Christmas, it is the doll. Dolls have been enjoyed by little girls throughout the centuries.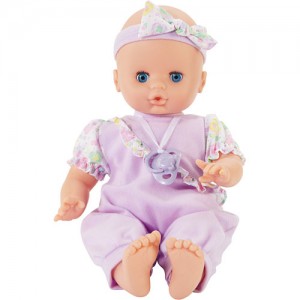 Dolls are usually one of the first props that a little girl uses in her pretend play. Through something as simple as caring for a baby doll, a little girl learns a great deal about nurturing and tenderness. Dolls also aid in the development of language skills as well, from basic vocabulary to more advanced storytelling. Dolls can also increase cognitive thinking and problem solving abilities as well. Dolls overall are a wonderful gift for both boys and girls. With so many dolls on the market though you may be wondering what are the best dolls for toddlers? When dealing with a toddler though the simpler the doll is the better.
Kidoozie has a nice line of dolls called, Cozy Cutie, which are the perfect size for a toddler to carry around all day long.
Featuring realistic details,  Cozy Cutie comes dressed in a removable purple outfit with matching headband. Her weighted eyes open and close, just like a real baby. She can also suck her pacifier, which is included, just like a real baby. She has a soft cuddly body with a realistic soft vinyl head, arms and legs.
Kidoozie Cozy Cutie Cuddlin dolly is everything you would want in a baby doll. My daughter who now is just shy of turning three received her 1st Cozy Cutie last year for Christmas. A year later, both the doll and clothes are holding up well to daily play.The weight and size of these dolls are just the perfect for her small hands.
I love that both the hat and pacifier is attached to Cozy Cutie Baby Doll, preventing both from getting lost. Miss P can easily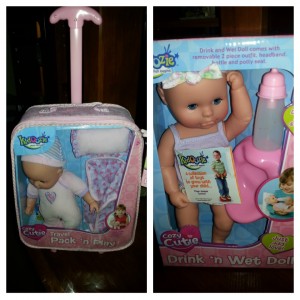 remove the dolls clothes, though she does have some difficulty getting her clothes back on. She hasn't quite mastered that yet.
This Christmas we will be adding the "Cozy Cutie Travel Pack n Play" to her doll collection. Recommended for ages 2 and up, the Travel Pack 'n Play case includes 12″ doll with outfit, removable hat, pillow, blanket and pacifier.
Little girls like to be like mommy. Recommended for children age 2 and up, your little girl will love to care for and potty train her Kidoozie Cozy Cutie Drink 'n Wet Doll just like real mommies do. Feed dolly her bottle, then sit her on the potty just like a real mommy. The doll includes two piece outfit, headband, bottle and potty seat.
Kidzoozie also carries a "Cozy Cutie Lil Doll Care Kit", which includes feeding dish, fork, spoon, bottle and rattle toy, which all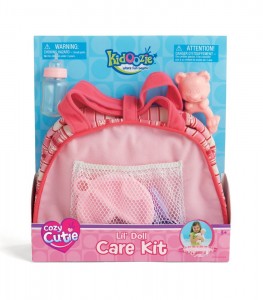 fit inside a netted stretchy pocket. The Velcro closure mat opens for changing or tummy time for the dolly. Amazon currently has the set for $10.49 at the time of this post.
Be sure to also grab the Cozy Cutie Stroll 'n Go, which fits a variety of dolls as well as the Cozy Cutie dolls and plush animals. The easy fold sturdy design makes it perfect for on-the-go fun during the holidays!
The best part about Kidoozie Cozy Cutie dolls is that they are a realistic, simple classic doll that encourages my daughter to use her imagination. She links several actions with her doll such as feeding her, taking her for a walk in her icoo – Grow with me Doll stroller, watching TV with her and putting her to bed in her KidKraft white wooden crib.
International Playthings, knows that a doll is much more than a toy; it is a cherished part of a child's growing up. That is why they have created a simple and realistic doll line that is perfect for pretend play.
Kidoozie toys for toddlers and preschoolers are engaging, educational and FUN. Their broad range of high-quality toys have won numerous awards and are safe and well designed. Innovative toys encourage movement, problem solving and pretend play through various themes. The new Kidoozie Cozy Cutie dolls and accessories are perfect for role playing. Sized for little hands, the line features sweet dolls, pretty outfits and cute accessories sure to become favorites of little mommies everywhere!