The 3D MAGIC 3D Maker line of children's activity toys from from Tech 4 Kids has been cited as one of the top "must have"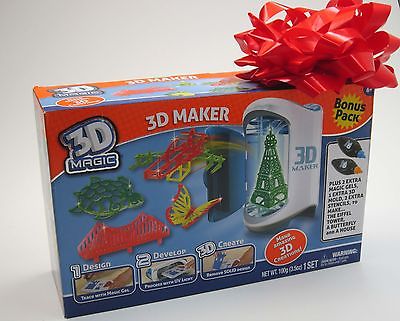 items for the upcoming holiday season. Their 3D Magic Maker, allows kids to create everything they can imagine, from building sculpts, to doll accessories, jewelry, animal figures and much more. The 3D Magic Maker is battery-operated and safe for kids 6 aged and up, but of course parent judgement is advised.
Kids select one of the included pre-designed templates or molds and fill it in using one of the three gel colors. They then slide the mold into the 3D chamber, close the door, and push the "timer" button.
The gel becomes solid after enclosed exposure to LED light. Unlike play baking ovens, the gel hardens in the UV chamber in about a minute. Plus, there's no heat for parents to worry about, ensuring kids' safety. Kids can use more gel to fuse together two or more pieces, in order to create 3-D structures and sculptures. Of course free-styling is encouraged. Creativity is also a bonus. Fire the machine up again and within a minute your child has their model! At times parents help may be needed.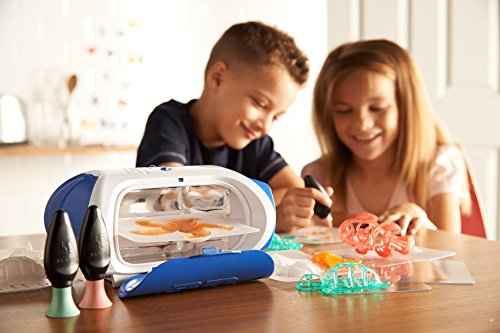 Kids will likely want a few more colors to play with, since the set only comes with three colors. The gel is available for purchase in multiple colors, including a special glow in the dark formula.
Overall 3D Magic Maker is perfect if you have a child interested in science and technology.
Tech 4 Kids is a privately owned Canadian company, has been designing, developing, manufacturing, and marketing children's toys in over 60 countries worldwide since 2009. With offices in Hong Kong and Toronto, Tech 4 Kids is renowned for combining great licenses with innovative product concepts. The company maintains a strong, exponentially growing portfolio of intellectual properties based on unique proprietary product design including: Outer Edge, Spot Lite, 3D Magic, Lite Force, Outer Active, Mash'Ems, and Eggtopia. All Tech 4 Kids products are safety tested with third party accredited labs to ensure the highest manufacturing and safety standards are met. As members of the TIA (Toy Industry Association) and the CTA (Canadian Toy Association), Tech 4 Kids is committed to the highest ethical standards by only working with factories that adhere to the ICTI (International Council of Toy Industries) Care program. For more information, visit: facebook.com/tech4kids, twitter.com/techfourkids, youtube.com/tech4kidsonline and http://tech4kids.com.