This holiday season allow your daughter to explore the magical world of Lalaloopsy, with tons of silly surprises around every
corner!
Lalaloopsy, the #1 large doll collector brand for girls from MGA Entertainment originally released in 2010, with eight characters. They began to grow in popularity during the 2010 holiday season when they were named the hottest toy and MSNBC referred to them as "this year's Tickle Me Elmo". Lalaloopsy was definitely recreating Cabbage Patch history.
Today, The Lalaloopsy portfolio currently features over a hundred colorful and whimsical dolls and is one of the top rated shows on Nick Jr.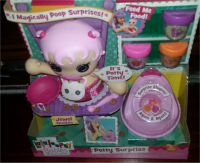 As the holiday season nears Lalaloopsy is grabbing the spotlight once again with " Lalaloopsy Babies Potty Surprise." This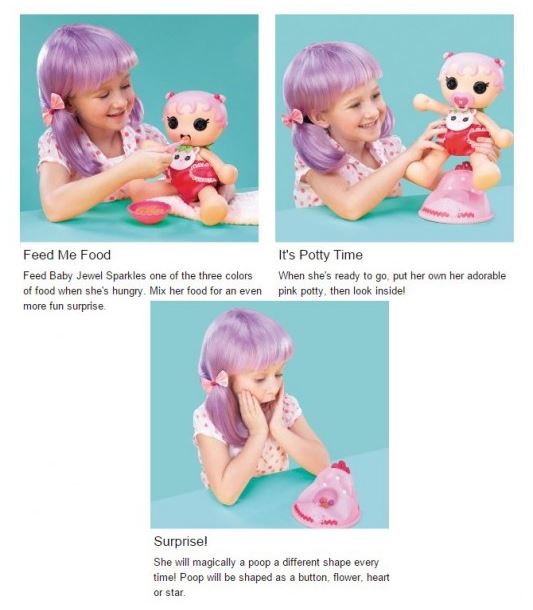 cute doll magically poops a surprise shape in her potty!
Included with " Lalaloopsy Babies Potty Surprise" is three different colors of "baby food" (orange, pink and purple), a spoon, a bowl, and the potty. She also comes with a removable diaper and pacifier. The doll is made from plastic, which is easy to wipe clean. The included baby food resembles Moon Sand.
Your daughter simply feeds Jewel Sparkle her baby food and once the food has been eaten, remove the diaper, then turn Jewel Sparkle's belly button all the way to the right, hold it for a second and release. Then place her on the potty. When you lift her up you will see different shapes like flowers and butterflies. I sure wish that I found, what resembles lucky charms in the diapers and pull ups that I change, or the potty that I empty on a daily basis.
When play time is over – place the "food" into one of the included containers. Lalaloopsy Potty Surprise doll is like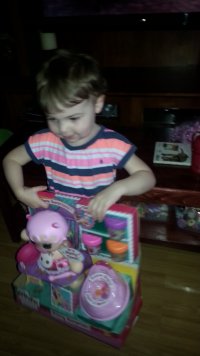 other Lalaloopsy dolls on the market with her bright, fun colors and adorable look.
Lalaloopsy Babies Potty Surprise Doll would definitely make a great gift this holiday season. You can find the full collection of Lalaloopsy dolls in stores nationwide or online on Amazon.
About MGA Entertainment
MGA Entertainment, a consumer entertainment Products Company headquartered in Van Nuys, California, manufactures innovative lines of proprietary products for the toy and consumer electronics market. The company also licenses its products in such areas as home décor, stationery and sporting goods. The MGA family includes award-winning brands such as Little Tikes®, Lalaloopsy™, Moxie Girlz™, Mooshka™, Bratz®, Vi and Va™, and Zapf Creation®.
Website: http://www.lalaloopsy.com