If you want to experience fine international cuisine in a relaxed atmosphere visit  "Dinkel's restaurant and courtyard," in the heart of downtown Belleville, Ontario, on the edge of Prince Edward County. Paul Dinkel opened "Dinkel's Restaurant and Courtyard" 34 years ago and today it remains a wonderful fine dining experience showing  Paul's devotion to food and wine.
Once you step into the doors- a friendly bar, a bright dining room awaits you. Dinkel's has separate meeting rooms for your business meetings, wedding reception or family get together.
We were greeted by a very friendly and smiling lady who seated us promptly. Kathhryn our waitress was personable, bubbly, attentive, and most accommodating.
We sat at a small, quant table for two by the fountain. The courtyard provided an oasis with its fountain and ivy-covered walls. It was truly a step into Italy without leaving Belleville. I was enamored the moment we walked into the courtyard.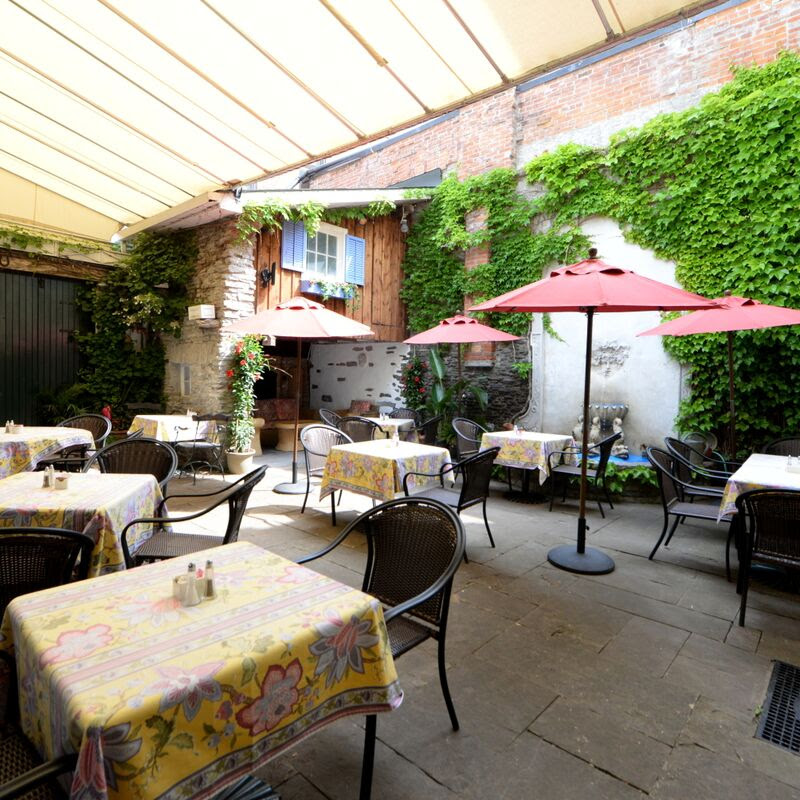 Our dining experience began with a Caesar salad, for myself and for my husband fresh mussels. The fresh mussels were served in a tasty wine sauce with chopped onion garlic, and fresh herbs.  The mussels were cooked perfectly by Chef, Paul Travis. They were plump and fresh tasting, not the least bit gritty. I have had many Caesar salads, but none compared to the freshness and taste of the one I had at Dinkel's.
For my husband, the entree consisted of two Beef tournedos' wrapped in bacon, served with roasted potatoes and fresh broccoli and baby carrots. The beef was tender and flavorful. The tournedos were definitely a hit.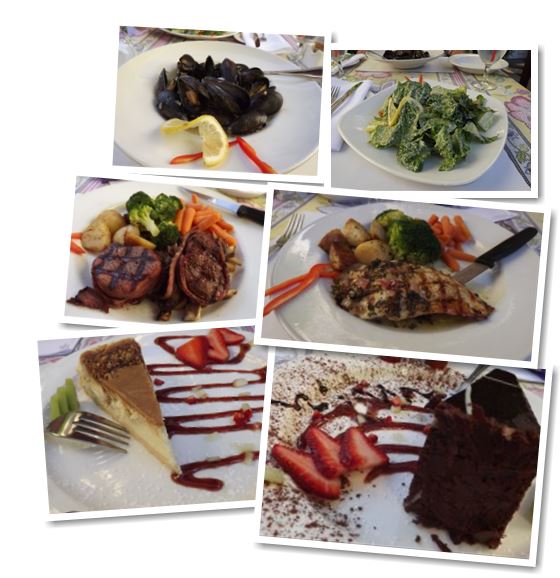 I truly enjoyed the tender chicken breast marinated with fresh lemon thyme. I was definitely impressed with this dish. The chicken was so juicy and full of flavor. It paired nicely with the baby roasted potatoes, fresh carrots, and broccoli all Ontario grown.
Upon saying a farewell to the sun and enjoying the now gentle summer breeze our meal came to an end with dessert. I savored every last bite of my caramel apple cheesecake. I can't even describe how wonderful it was. My husband enjoyed the triple mouse chocolate raspberry cake, which was absolutely delicious I might ad. Both desserts were served with diced strawberry, kiwi, and drizzled syrup.
Overall, the food, service, and ambiance made for a great relaxing fine dining experience.
Having this been our first visit for both my husband and I to "Dinkel's Restaurant and Courtyard" it is easy to see why it has been awarded with so many Reader's Choice awards.
Dinkel's Restaurant (dinkels.ca)