If you're shopping for someone with a sweet tooth, Phil's Fudge would be the perfect holiday gift. We first introduced you to Phil's Fudge back in October.
Presented in a white box and individually wrapped in cellophane, Phil's Fudge have the creamiest texture we've ever tasted. It is possible to purchase mass-produced fudge, but the taste won't rival Phil's Fudge. In summary, Phil's Fudge produces over 2,500 flavours and has over two dozen on hand at any given time. You can find the fudge at farmers' markets, trade shows, and shops around Alberta. Yes, Phil's Fudge is Canadian. You can also order directly from the site. There is still time to order.
We sampled three holiday flavours, and they were just as good as the flavours we had previously sampled.
Irish Cream Fudge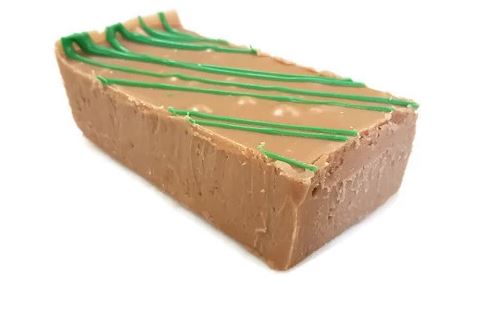 Featuring one of Christmas' favourite flavours, Irish Cream, this creamy fudge is sure to please!As soon as we tasted it, we noticed the flavor of Irish cream. This fudge has a silky smooth texture that will leave your palate wanting more. It is the perfect addition to Christmas trays or Christmas tins.
Candy Cane Fudge
It's impossible not to include this Candy Cane Fudge on your holiday dessert table. A rich and silky fudge, this delicious candy tastes like the holidays. It was our daughter's fudge of choice.
Chocolate Rum Nut Raisin Fudge
Chocolate Rum Nut Raisin Fudge is a rich and creamy chocolate treat that's sure to delight chocolate lovers in your household.
Fudge is the perfect gift to give and receive during the holiday gift giving season. Why not make your holiday gifts special and give each one on your list a box of Phil's Fudge. Not only will it delight your recipients, but it will leave behind lingering sweet thoughts of you.
About the man behind the fudge

Phil loves to cook and has a sivere sweet tooth, so he began making fudge. Phil's friends loved his fudge and said " hey Phil you should be selling this."So, in 2011 he began his fudge making a journey. I can not believe it has taken me 11 years to discover Phil's fudge. It is Phil's singular passion to make fudge without compromise; to dedicate himself to the art and craft of making fudge. Today, a small team of people continue the fudge making tradition hand-making fudge in small batches using the best techniques and the finest ingredients with a single minded dedication to quality.