Here in the DesRochers household when we are not coffee cupping we are putting our taste buds to work sampling shortbread cookies. Sprucewood Handmade Cookie Co cookies were the latest brand we sampled. Named Canada's Best Shortbread by Canadian Living Magazine and The Globe and Mail, this all-natural shortbread is made locally in Cobourg, Ontario. Cobourg is a 49 min drive from where we live in Belleville. Previously located in Workworth, SpruceWood founder Mark Pollard made the move to Cobourg in 2017. Sprucewood Handmade Cookie Co. makes small batches of shortbread cookies with truly local Canadian ingredients. Whether it is simply a treat after a long day of holiday shopping, or a gift for a friend, you are sure to find a cookie to delight everyone's palette.
Sprucewood Cookie Co is also happy to offer cookies for those cookie lovers out there who are gluten sensitive or celiac. Lemon Zest, Maple, or chocolate chip are offered as gluten free options.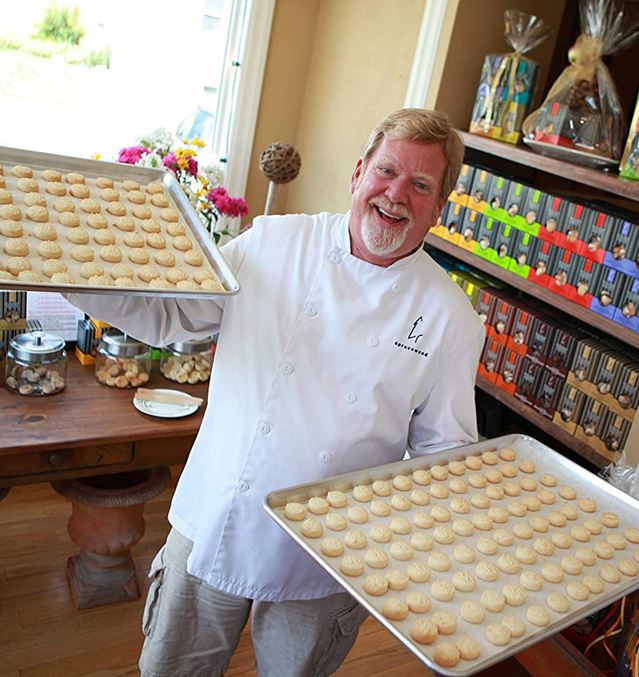 Along with our good friend John, we sampled a few of Mark's shortbread cookies. This is what we thought.
Sprucewood Handmade Cookie Co. Lemon Zest
Simply hand zested lemons make this the ideal shortbread cookie to pair with a cup of tea.  Fresh and citrusy with a nice butter finish this is one I really enjoyed! It is diabetic-friendly and nut free! It pairs well with my apple tea.
Sprucewood Pumpkin Spice Shortbread Cookies
Made with pure, fresh pumpkin, a delicious blend of spices and creamery butter, pumpkin spice shortbread can be enjoyed on it's own,or with a pumpkin spice latte, hot apple cyder or cinnamon spice tea. I really enjoyed this flavor. The pumpkin wasn't over powering at all. If you like pumpkin then you are sure to enjoy this cookie.
Festive chocolate mint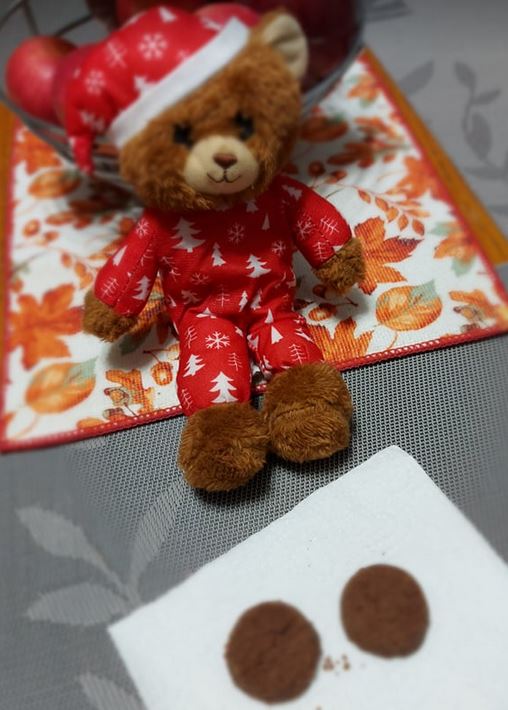 Festival chocolate mint is my favorite. The combination of chocolate, shortbread and mint really lets the flavors of both the butter and the peppermint shine. The chocolate wasn't strong and you still have a nice mint taste in your mouth long after the cookie is finished. This is probably one of Chef Mark's more elegant creations; this cookie will be enjoyed by all ages!
Classic Shortbread Cookie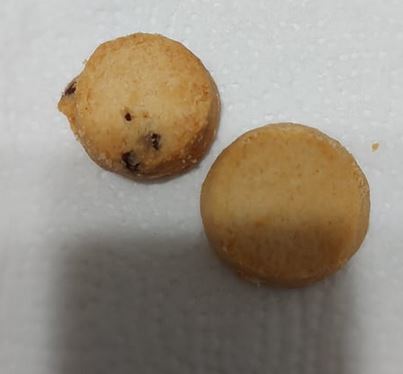 One of the company's best sellers is the classic shortbread cookie. It is elegant and perfect for any palette and incorporates just a drop of vanilla extract for the flavor. One bite it will take you back  to the shortbread cookies your grandma use to make.
Maple Shortbread Cookies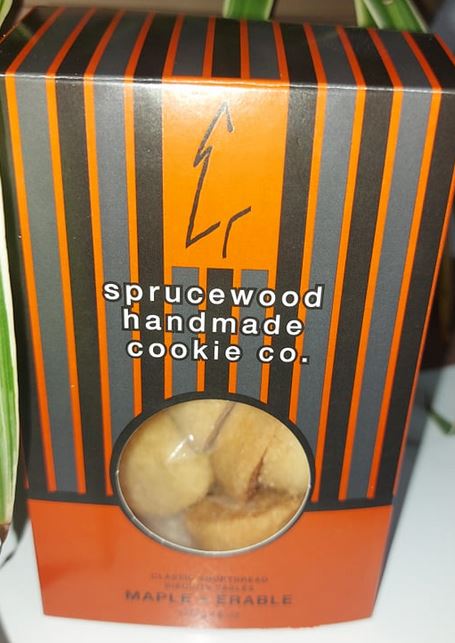 Sprucewood makes their pure maple shortbread cookies with only unadulterated Canadian Maple Syrup. These cookies aren't too sweet and in fact they are diabetic friendly as well. They taste like a shortbread cookie with a light drizzle of maple.
Holiday Cognac Shortbread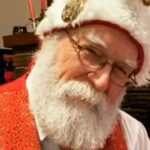 My friend John, also know as Mr.Kringle- aka Santa Claus had this to say.
They are fragile and dissolve and taste great. They are the perfect one bite size. Meaning you don't necessarily need a plate at a holiday party. The taste is initially of subtle cranberry. The cognac flavour arrives later almost as a lasting aftertaste. A pleasant sensation. I will certainly buy these again.
For those of you live on the dark side – Sprucewood Handmade Cookie Co is happy to offer an entire dark chocolate collection!  Chocolate mint, dark chocolate, or dark chocolate orange will be sure to satisfy that urge for a cookie.
My Least Favorite
Dark Chocolate Shortbread Cookies
Disappointing would be the politest thing to say about the dark chocolate cookies. They had a very strong dark chocolate cocoa taste. I found the cookie rather dry and had to chase the cookies down with a large glass of milk. My eight year old daughter liked them topped with whip cream, so this flavor did not go to waste.
Sprucewood's Fresh Raspberry Shortbread
My friend John sampled these and wasn't a fan. He ate one cookie with the hopes the 2nd cookie would get better, but sadly it too was disappointing.  The texture was more like a rice-cake with a touch of raspberry jam. It wasn't his cup of tea, but other reviewers have been on the fence with some loving them and others not being a fan.
Canadian Cheddar Shortbread Cookies
Are you both a cookie and a cheese fanatic? Then look no further because Sprucewood Handmade Cookie Co offers several kinds of savoury shortbread cookie, all flavoured with a different kind of cheddar. The cheesy shortbreads they offer are: Herbes de Provence & Aged Cheddar, Spicy Cheddar, Aged Cheddar and Roasted Garlic and Canadian Cheddar.
The Canadian cheese flavor is very sharp, and you can taste it throughout. Though I like cheese and some would call me a mouse I did not like the Canadian Cheddar Shortbread Cookies. The flavor was not to my liking. I do not believe that cheddar and shortbread should go together after eating these. I couldn't finish even one cookie, and my husband and daughters whom I shared with split theirs out. However, to each their own. The cheese flavor cookies have received rave reviews on Facebook, so like anything it is up to ones taste buds.
All in all the flavors were a hit and miss. Some flavors had me saying just one more cookie as I reached in the box, and other flavors had me reaching for a tall glass of milk to chase the flavor down. One flavor had me realizing that certain ingredients should NOT be put in a shortbread cookie. It certainly is one brand that is defined by your taste palate. If you have tried any of Sprucewood Handmade Cookie Co shortbread cookies,we would love to hear your thoughts in the comment section.
Visit https://sprucewoodbakery.com/ for more information.
Let's Get Social