Are you a stay-at-home mom looking for a way to make some extra money? A side business could be the perfect solution!
In this post, we'll share tips on how to set up your own side business. We'll also discuss some of the benefits of starting a side business and how to make this dream a reality.
1. Why start a side business while staying at home with your kids?
Many moms begin a side business because they have available time. Taking care of kids comes in waves of being busy and waves of free time. Why not take advantage of your free time and build an online business!
You can easily use the money that you start pulling in from your side gig for monthly bills and even going out and enjoying.  Maybe you'll even be able to quit your day job and build a full-fledged business!
How much can you make doing something like this?
Most stay-at-home moms who start a side business will tell you that making a lot of money is not their goal. In fact, most make less than $100 per month. But the benefits of having your own side business are not in the money you earn.
You'll benefit, in terms of time and quality of life, by being able to stay home with your children while still making some money on the side. And be as ambitious as you want. This is your business, your life, and your dream!
Is this something I can do in addition to taking care of my kids?
Yes! When you work at home with your own business, you'll be able to set your own hours and work around the needs of your family. Many of the most successful stay-at-home moms start home businesses during their children's naps or immediately after they go to bed for the night.
2. How to find the time to start a side business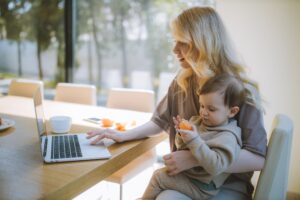 Time is the biggest obstacle that all moms face when starting a business.
When you're first getting started, it's best if your side business is connected to something you already know and do well. Why? Because then you can use the skills and talents you already possess to help get your new venture off the ground!
You don't have to be the best at everything, just good enough to get started!
Once you get things up and running, you can grow your side business organically and know there there are thousands of tools for small businesses online. Over time, your business will expand based on what works for you and your family.
When juggling two or more businesses (your day job and your new gig) it's important that you have a clear schedule. This will help you stay focused and meet your goals.
3. What type of side business is best for you?
There are a number of different types of businesses that work well for stay-at-home moms.
Here's a few suggestions:
    A service you offer in your area, such as cleaning or babysitting. You can often find customers if you have a good reputation among people in your community. To get started, post flyers around town or start by asking friends and family.
    A blog that you maintain for fun, such as writing children's books or sharing your recipes online. Over time, this blog will take off and drive traffic to your site – it may even become a full-time business! You can make money with ads on your blog, selling printables, or by selling your own products.
    A product you make at home, such as jewelry or crafts. Over time, you'll start to build an inventory that works for your business. You can sell these items on Etsy or set up a Facebook page related to your hobbies and interests where you can share your creations.
Once you choose your direction, make sure that you set up a business entity to promote your small business and differentiate your person from our business. There are great LLC resources out there on the web that offer free information to help you get started.
4. How to make money from your side business
There are many ways to make money from your side business. Here are some ideas:
    Take on local or home-based clients (such as for cleaning or babysitting).
    Sell your products online, such as crafts or clothing that you've handmade. Setting up an Etsy shop is a good way to connect with potential customers.
    Sell printables online, such as invitations for children's birthday parties or thank you cards. These are often customizable so you can offer them for free to your friends and family.
    Create a blog around your hobbies or interests, then monetize it by selling ads on the page or selling your own products.
    Offer to maintain or update a company's social media accounts for them in your free time, then offer additional services such as teaching the company how they work. This is a great side business for moms who are already familiar with how to use social media platforms like Facebook and Twitter.
5. Tips for staying organized and keeping track of your progress
When you're starting your own business, one of the most important things you can do is be organized! This will help ensure you stay on task and meet all of your deadlines. It will also make it much easier to manage everything down the road when you start growing your side business.
Here are a few ways to stay organized:
    Keep a calendar that has all of your important deadlines listed on it, then check off which ones you complete each day.
    Use an online to-do list, such as the one in Microsoft Excel or Google Docs. You can also use this tool to keep track of who you've already contacted about your business and who hasn't responded yet.
    Keep a journal of your progress, like how far your business has come and what steps you've taken to organize it. This will help you stay motivated!