Family game night just got a whole lot funner in our house with What do you meme family addition. We gathered with my husband's family and put this card game to the test to see how long it would keep us laughing. Like What Do you Meme, What Do You Meme? Family Edition is a card-based game where you match captions to meme images. The game comes with 300 caption cards, 64 image cards, custom reusable storage box for an easy clean-up, game instructions and an easel to display the image card for all to see. The cards are printed on premium card stock with a glossy finish. They are a very impressive quality.
To begin each player is dealt 7 caption cards with the youngest being the first judge. The judge will then shuffle the image cards and pick the top card and place it on the easel that comes with the game. Everyone, but the judge plays a caption card to best suit the image. The judge decides which caption is the funniest and whoever wins that round keeps the meme card. Whoever has the most meme cards at the end wins and gets all the bragging rights for being the king/queen meme creator!
The game-play is actually pretty fast and fun. My kids are still too young to play the game, but for kids there's a real learning exercise in trying to judge the emotion in the Photo Card and find a caption to reflect that. The biggest challenge to the game is knowing your audience. What one player-may find to be the funniest won't necessary be what another play finds funny.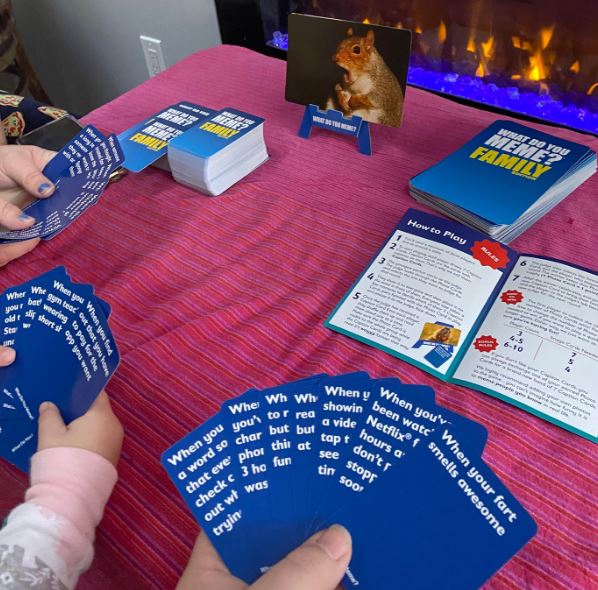 We sat down with my husbands family to play this game and to say we all had so much fun was an understatement. It is definitely a family favorite that has me incline to purchase the adult version for game night with the girls.
The game has an MSRP of $29.97, making it an affordable gift for a family.
What Do You Meme® is a new-age game company driven by the digital age and inspired by pop culture. Their games are designed to bring the internet-style, shareable humor that makes you laugh out loud from your phone to your living room. Starting with the breakout hit and now Amazon's #1 best selling game What Do You Meme, the collection has grown! It now includes several other adult party games as well as a line of family friendly games.
Check them out at https://whatdoyoumeme.com/
Connect with What do You Meme? on Facebook, Twitter and Instagram.