When there is something strange lurking in your home, who you gonna call? Luki Lab! They are the creators behind six adorable cuddly House Monsters made from soft plush with a unique texture specific to each character. Each fun character comes with their own habitat representing where it lives in your house. Habitats include a refrigerator, closet, attic, bed, dishwasher, and dryer.
Each House Monster arrives in its closed box hiding place representing their habitat. This is a fun unboxing experience for kids who love unboxing toys. Simply open the box to reveal the chosen House Monster plush character and the included collector card. Each laminated box doubles as a personalized habitat for each character and the inside of the box is beautifully illustrated.
Each character also comes with their own identification collector card. The collector card is wallet size. The front of the card displays the character's picture and shows the monster's home address (hiding place), favorite food, and biggest fear, with a group shot on the back.
Meet the Monsters: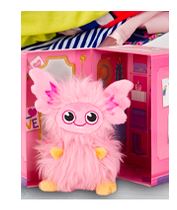 Dizzy is the dryer monster. He spends most of his time tumbling around (causing him to get dizzy) or eating lint balls (his favorite food). He also loves to steal socks; so if yours are missing, you can probably blame Dizzy.
Drowsy is the monster you find under your bed and who is always ready for a nap. She is a collector of all things that fall off your bed – so if something from your bed goes missing, you know who took it!
Bumpy is the attic monster. He tries to be on his best behavior and not make noise, however this monster can't help but bump into everything in his path – especially at night.
Sudsy is the dishwasher monster who loves to play with bubbles and clean all the dishes she can find. She's always cleaning up the monster messes her friends make.
Fluffy (pictured right) is the closet monster. She is a chatty fashionista who knows everything about clothes and shoes. But the mess she leaves in the closet after she's found the perfect outfit – is probably going to be yours to clean up.
Munchy is the fridge monster who has a monstrous appetite! He's 5" tall and 6.5" wide. He loves chocolate cake and fears vegetables. He is always responsible for everything mysteriously disappearing from your kitchen shelves. He is also known to give the best hugs!
House Monsters are a perfect new addition to the mystery reveal trend. I like that there is hardly any packaging waste. They are perfect for play time, or bed time or whenever you need to cuddle a monster.

A YouTube animation series that follows the lives of these mischievous monsters living in the Johnson family home launched in October.
Let's go shopping
The House Monsters are for children ages 3+ and are available online now on Amazon.com and the House Monster's website (house-monsters.com) for $16.99. In addition to the cute plush monsters the first book of a series, "The Birthday Party", is also available on Amazon for $15.95.
To learn more about House Monsters please visit the House Monsters website, house-monsters.com.
ABOUT STROTTMAN INTERNATIONAL
Strottman International is a creative-led toy and animation company with over 35 years of experience at creating exciting kids brands. We have designed and manufactured more than 3.5 billion toys for both retail and some of the largest global brands, all with a flawless safety record. For more information, visit Strottman.com.
What do you think about HOUSE MONSTERS?