Are you looking for a new, unique, fun and educational activity for your child? In our home we have recently tried out wall stories interactive room decor from Canadian Company Quinco & Cie. Not only is this line of interactive wall decals that uses augmented reality (AR ) a great addition to my children's playroom, it also comes to life in an interactive application.  And that's not all. It also helps to teach kids many things such as: numbers, colours, shapes, music and reading! Sound appealing? I thought so too. With schools being closed due to the Covid 19 pandemic and not reopening to the fall many parents like myself are searching with ways to help our kids learn from home. I was super excited when Rose introduced me to Wall Stories. The brand features licensed characters from popular shows like Paw Patrol and Sesame Street, as well as the adorable animal friends from the Ludo Collection, designed by French artist, Ségo. We own Paw Patrol though I have my eyes set on Sesame Street too for my daughter.
Paw Patrol Interactive Wall Story
The Paw Patrol Interactive Wall Story is not only pleasing to the eye, it is a great addition to any playroom or bedroom. It comes neatly packaged in a sturdy box that I will continue to use. The package came with easy to read instructions, a kids bag, a wall art t-shirt (that my son now refuses to take off), notepad with a pen and the wall stickers. The wall art happens to be heat/cold resistant. Meaning if it is on a wall directly near a window with the sun beaming in, it won't fade or ruin the decor at all. Ours is in our basement on the wall right across from the window and I find this very handy. I love knowing that I don't have to worry about the sun fading the crisp clean colours.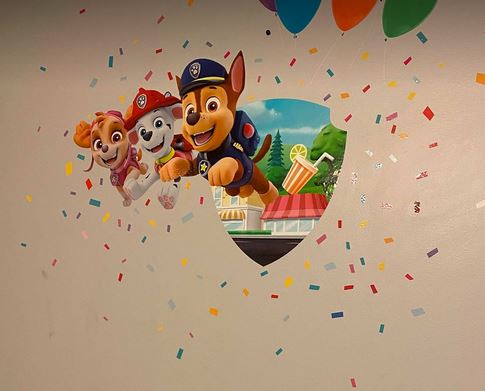 I'm sure we are all familiar with horror stories of applying wall decor, but let me just say this was the easiest wall decal that I have applied yet. I'm a sucker for wall art, and have it in every room in my house. If you have used wall stickers before you're also probably familiar with how difficult and frustrating it can be when it's a big piece. The Paw Patrol wall art was not all one piece. There are 6 pieces to put to the wall. If I had an imperfection and needed to fix it, it was super easy to just pull off and adjust without damaging my wall or ruining the adhesive on the sticker.
I think my most favorite part of the wall art is that it has a free interactive application that just brings the whole thing to life for the kids. The app is available for iOS on the Apple App Store and for Android via the Google Play Store.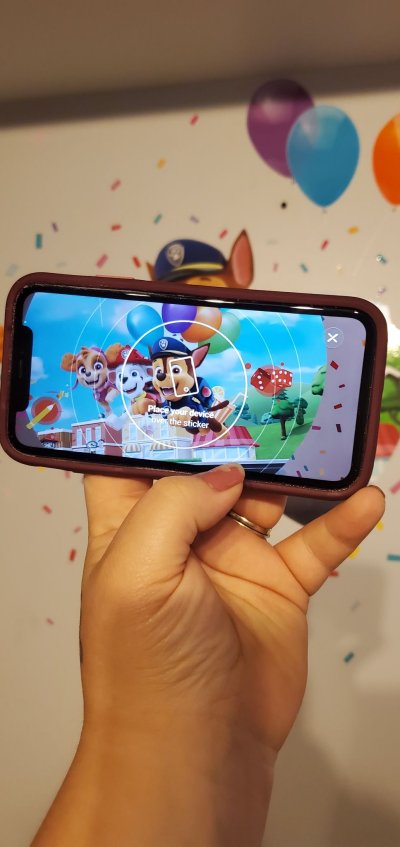 My son is constantly asking for screen time to watch YouTube and while I hate allowing that, I get peace knowing that Wall Stories is so educational for him to use. With him only being 5.5 and in Kindergarten he has missed out on months of school due to the Covid pandemic. Online schooling is not an option in our household, so having an educational outlet like Wall Stories works so well for him. It teaches him numbers, colours, shapes and even reading. Just the other day my son was on the application and said "mommy this says the word blue!" To say I was blown away is an understatement.
In addition to the Augmented Reality feature, there are three additional modes for every Wall Story:
Story Mode invites children to read along with their smart devices like open picture books. Every story can be read or listened to in English or French!
Game Mode encourages educational play with games on the smart device. Each game is themed based on the aesthetic of the wall decal and includes 3 levels of difficulty for those who want an engaging experience.
Creative mode gives children the freedom to virtually personalize their rooms through the Wall Stories app's interactive augmented reality. In Creative Mode, children can design and create their own space for play!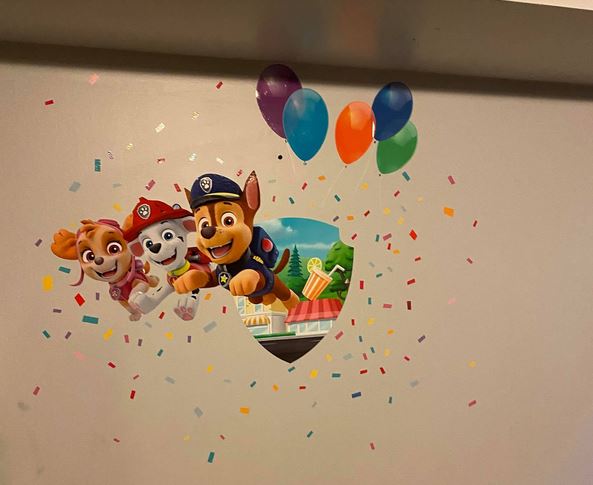 Conclusion:
I'm going to conclude this review by saying I absolutely recommend this product 100 times over. I've already had a few mom friends place their orders through wallstories.com.. So what are you waiting for? It's time for mom to sit and relax a bit while the kids learn, keep busy and stay out of trouble.
Wall Stories are available online through Walmart, Indigo, Toys"R"Us Canada, Amazon.ca, and both online and in-store at Canadian Tire.
For more information, please visit: www.wallstories.com
About Wall Stories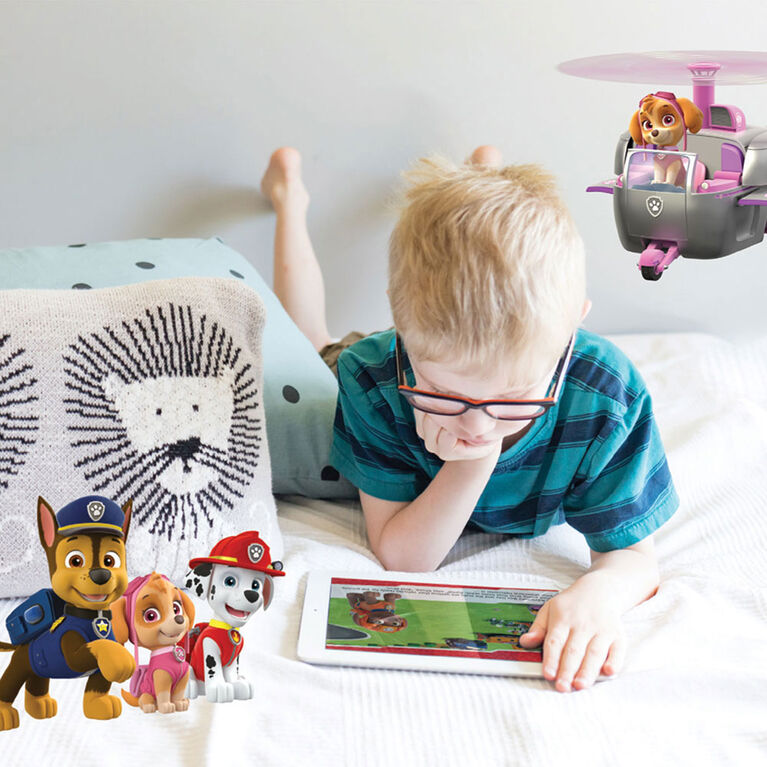 From the passionate minds of interior design creatives, Quinco & Cie, comes the imaginative world of Wall Stories – a new line of interactive wall decals which brings beloved characters into children's homes! Wall Stories are easily applied with their wall-safe designs and introduce a story, game, and creative mode for children to play and explore in both English and French languages. Families can install the Wall Stories App onto their smart devices to watch characters from Sesame Street, Paw Patrol, and adorable animal friends from the Ludo collection come to life through AR technology.
About Quinco & Cie
Quinco & Cie is a proudly Canadian home decor design/manufacturer company that strives to surprise, innovate and reinvent the way families approach designing the home space. Since 1999, Quinco & Cie has housed the passion and creativity of interior design experts who are guided by a keen sense of excellence, innovation and entrepreneurship. Their mission is to bring this energy to families and creatives through their inspiring brands in Wall Stories, Högar Studio, and their widely successful market-leading product, Smart Tiles, which are available at over 3,600 points of sale on three continents.