If you're looking for an affordable pair of wireless headphones for yourself or someone on your Christmas wish list, look no further than Skullcandy. Weighing in at a featherlight 24 grams, the low-profile design of Skullcandy Ink'd In-Ear Wireless Headphones won't cramp their style during all-day listening.
The first thing I notice about the Skullcandy Ink'd In-Ear Wireless Headphones is that they are very lightweight.  They are also very comfortable and don't  bear any pressure on the ears.
The headphones feature the low-profile Flex Collar to keep the ear buds in place. I will admit that the collar design takes a little getting use to. The flexible collar packs up to one-third of its original size for easy portability, as it will fit in a shirt pocket or small carry pouch easily.
The earphones have good noise isolation, perfect for the gym. You get a solid eight hours of battery life to last you a good amount of listening time, whether you're commuting, or exercising.  The headphones come with a Micro USB to USB Charging Cable that you can plug into anything that supports a USB device to charge your wireless headphones. Charging it to its maximum capacity takes just under an hour and thirty mins.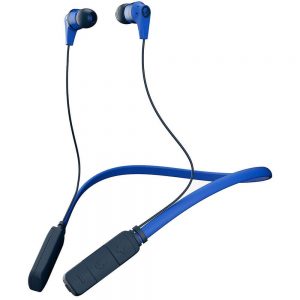 These Skullcandy Ink'd In-Ear Wireless Headphones certainly don't skimp on sound quality. I find them to be crisp and clear not choppy like some other brands of wireless headphones.
The earphones are sweat resistance, therefore perfect for running. The buds themselves are all plastic, but comes with a pair of standard ears gels.
The best thing about Skullcandy Ink'd In-Ear Wireless Headphones is the comfort offered. I find them perfect to use as a hands free device when I am on a conference call due to their well position microphone and ease of use. I have no problem hearing the person on the other end of the phone and they can clearly hear me.
Overall the functionality and quality from the Skullcandy Ink'd In-Ear Wireless Headphone is exceptional. At a price tag of $34.99 at Best Buy until Dec 24th you can't go wrong.
The Skullcandy Ink'd In-Ear Wireless Headphone comes with a 2 year warranty on parts and a 2 year warranty on labor.
Happy Shopping and Merry Christmas!