There are only 46 days left until Christmas.  Now may be high time to think about rewarding your canine friend for all the love he/she gives by ordering one of these fancy Team Plover dog collars from Team Plover that matches their unique personality. Team Plover was launched by Christian Marcello. A graduate with a chemical engineer degree from the university of Toronto, Christian decided to follow his heart and become a rescue animal transporter. Along with a group of dedicated volunteers Chris drives dogs from kill shelters in Montreal to Toronto. To pay for this passion he launched Team Plover which sells  the best stylish dog collars and leashes in Canada.
(Picture above is a Team Plover rescue dog)
With the purchase of each dog collar or leash customers get a video of the pet he has transported.
If you're looking for a high-quality dog collar that comes in a huge range of fun colors and patterns, you'll be hard-pressed to find  a better collar than Team Plover collars.
The main appeal of Team Plover collars has to be the brand's fun designs. There are around 22 original patterns, including anchors, jungle, fruit, flamingos, a mermaid pattern and more. The company offers plain colors as well. Plus, you can choose from four collar widths to find the perfect look and fit for your pooch.

We choose the Onyx Dog Collar Rose Gold Collection as we thought it would look great against Maxi's blonde golden fur, and we weren't disappointed! The black with gold really popped against his coat, making him look rather stellar. Strong metal hardware with a rose gold colored plating creates a stunning finish and makes the collar corrosion resistant. A solid black print lining the outside of the collar that is made from the same highly durable blend of fibers that are used in outdoor furniture makes this a simple and sleek design that has the power to withstand the test of time.
Given that we usually remove Maxi's collar in the evening, we appreciate a collar that's quick and easy to attach. Maxi has a decently thick coat, and the collar doesn't bother him in anyway. There's no denying that the Dog Collars are well-made. The materials are high-quality, and the stitching feels very secure.

One of the best things about this collar is its affordable priced and you are helping a dog in need.It is a win all around.

With an innate sense of elegance Team Plover gorgeous dog collars will make your dog stand out in the crowd. If you like coordinating, the brand sells matching leashes as well. I have my eyes set on the Onyx Dog Leash Rose Gold Collection leash.  The brand carries bandanas too as well as Martingale Dog Collars.
.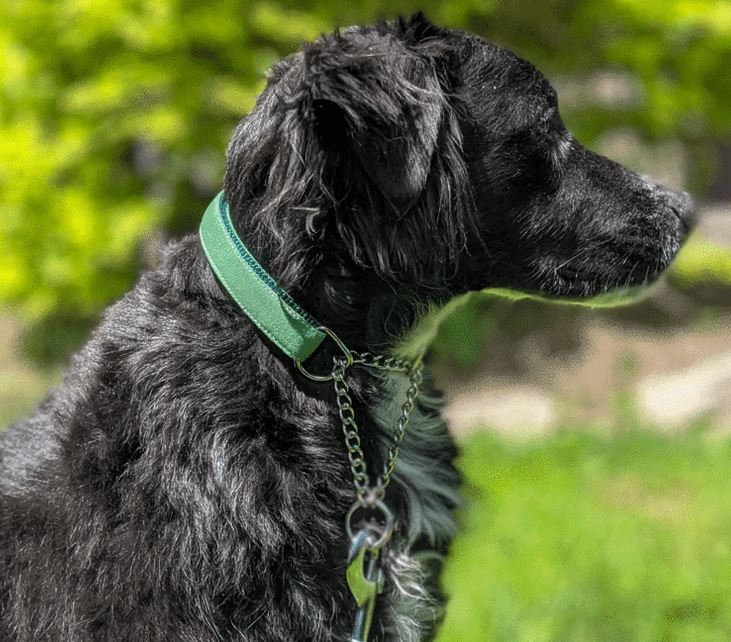 To purchase a collar and help transport a desperate dog  visit teamplover.com and teamplover.ca.
Let's Get Social