Dog owners in my area have got it good. More and more businesses are catering to the needs of our beloved fur babies. For those of you who schedule regular meet-ups at the local dog park, tweet about your dog (s) daily lives on social media, have an Instagram account fully dedicated to your dog's life, sport dog apparel stating how much you love your pet then as a pet owner you want to give your dog only the best when it comes to dog treats Allow me to introduce you all natural dog treats from Kuhl's Pup Treats.
Kuhl's Pup Treats was started in 2019 by Dan and Diana Kuhl when they adopted their Pup Jango. He was 10 months old at the time, and the Kuhls were really struggling to find any treat/food option out there that would not terribly upset his tummy. They tried all sorts of store bought items and nothing seemed to work; everything made him sick. After endless research and many late nights a sudden a light bulb went off for Diana and she decided she would take it upon herself to make literally everything that he would consume. They developed treats with Whole foods and Natural ingredients that Diana knew he already enjoyed.
They were nutritional, packed with flavour and healthy ingredients and Jango gobbled them up! To top it off, Jango no longer had an upset stomach. Diana wanted to offer the same options to other pet parents who found themselves in the same spot they were in. It was from that Kuhl Pup Treats was born. Today they celebrate 2.5 years in business and are located in my hometown Belleville, Ontario.
Kuhl's Pup Treats have a large variety of Baked and Dehydrated treats for your dogs and cats in eighteen tail wagging flavours. There are two sizes of bags available. Choose from small or large. You can even order an advent calendar for your fur-babies. All the ingredients are Jango approved, tested and tried!
I can relate to those that have dogs with sensitive tummies. Both our dogs Mya and Maxi had issues with allergies and a sensitive tummy. Sure I can make my own dog treats, but with today's busy lifestyle and a daughter at home remote learning I sometimes just don't have enough time. I love the fact that Kuhl's Pup Treats are made with all natural ingredients, and our dog Maxi loves them. I will be placing an order for Christmas!
Treats will last several months in the cupboard and you can also freeze them.
Duke's Pet Foods in Whitby, Ontario, and Furball's Choice in Belleville, Ontario, are packed to the brim with a huge selection of Kuhl's Pup Treats. Treats can also be ordered via https://kuhlpuptreats.square.site/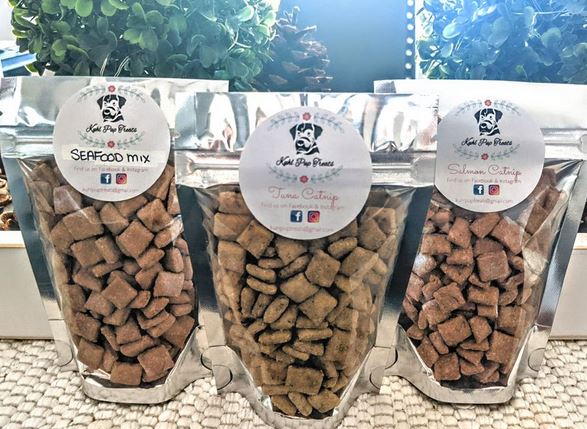 Let's Get Social