Meet Heather Pond, the Owner of Blue Elephant Artisan Brewery in Simcoe, Ontario. Serving  the Norfolk County as a brew pub since 1992, Heather and her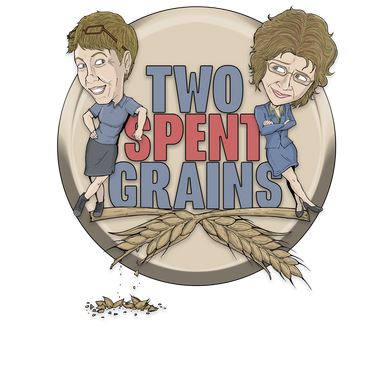 life-long friend Barb launched Two Spent Grains in 2018 after years of friendship and careers in the hospitality industry. It was from there a line of all natural dog treats was born. The natural health dog biscuits came about as a tourism promotion idea to create awareness of the Blue Elephant. Dogs were wagging their tales and pet owners couldn't stop talking about Brew'ed Biscuits, so Heather and Barb continued on their journey to provide dog owners such as myself with only the best all natural dog treats for our dogs.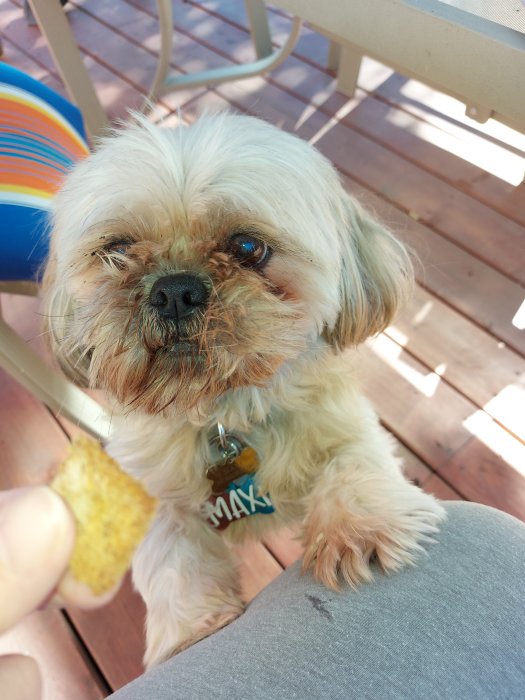 WHAT ARE SPENT GRAINS AND WHAT DO THEY HAVE TO DO WITH BEER?
After all, with each brewery comes thousands of pounds of spent grain. Many breweries supply the grain to local farmers to feed their cattle. Spent grain is what's leftover after breweries have made beer. It is a rich source of protein and fiber. Brew'ed biscuits are made in Ontario from locally sourced spent oats and barley. When you pair it with other healthy local ingredients found in Brew'ed Biscuits the results is a nutritional healthy dog biscuit your furbaby will love.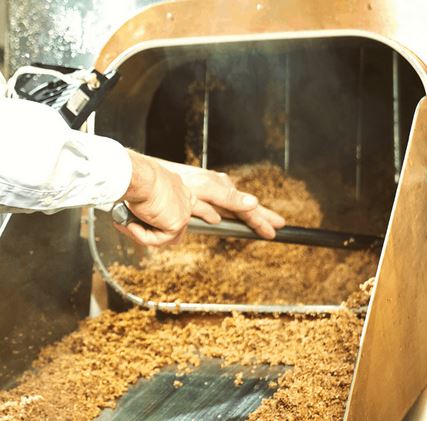 Don't take it from me. Just ask our 12 year old shihtzu.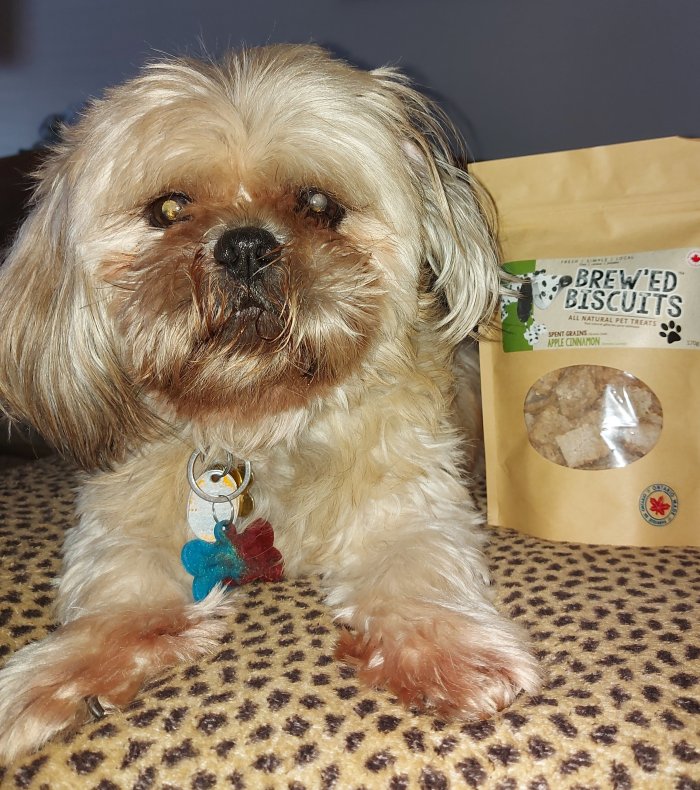 The 100% natural healthy dog treats are available in 3 varieties: peanut butter, apple cinnamon,  and pumpkin sweet potato.
Spent Grain Peanut Butter Biscuits are made using Kernal Peanuts, natural peanut butter made with Ontario grown Valencia peanuts. There is no salt or sugar added. The next ingredients are Harmony Hives all-natural unpasteurized honey and Arnolds Eggs from the Simcoe Farmers Market.  The other ingredients are brown rice and almond flours. Apple cinnamon biscuits contain the same local ingredients. Peanut butter has been substituted for locally grown and harvested orchard apples from the Cider Keg. The pumpkins and sweet potatoes used in Brew'ed Biscuits Pumpkin Sweet Potato dog treats are locally grown Norfolk County Pumpkins and Sweet Potatoes. You can see that Heather and Barb support local in their production of Brew'ed Biscuits. Local ingredients also means fresh ingredients.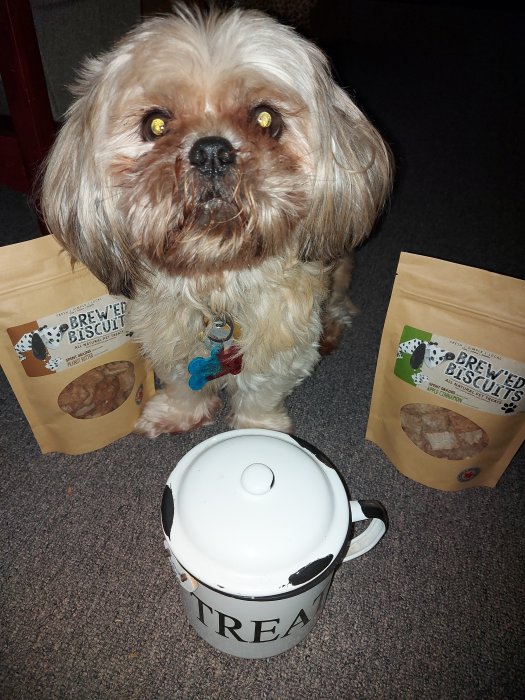 Healthy Dog Treats vs Commercial Dog Treats
Feeding all-natural Brew'ed Biscuits will help your dog's digestion system and can also enable them to live longer.
Brew'ed Biscuits Pumpkin Sweet Potato dog treats are a healthy choice for your canine friend. Pumpkin helps with both diarrhea and constipation and is loaded with fiber and beta-carotene. Sweet potatoes are high in dietary fiber and great for digestion. They will also keep your dog feeling energized. My old boy is like a brand new pup after just one treat.
A tasty treat for those close-up kisses, Brew'ed Biscuits Apple Cinnamon will keep their teeth clean and breath fresh. Apple are a disease-fighting fruit that packs a nutritional punch, complete with dietary fiber and vitamins.
If your dog is more of a cookie monster, check out Brew'ed Biscuits Peanut Butter dog treats. High in protein these treats will give a nutritional punch to their diet keeping your furball healthy and energetic.
Brew'ed Biscuits are easy on your dog's digestive system, because there is no added preservatives, fillers or colours that are found in commercial brand dog treats. Giving your dog all natural dog treats such as Brew'ed Biscuits also help provides them with the daily energy they need to get through the day.
Can't decide? Why not purchase a bag of each.  The biscuits will last 12 to 14 months as long as sealed, therefore it is not too early to place an order for Christmas.
This upcoming holiday season don't forget your pet! Brew'ed Biscuits are a great way to show the environment  that you care. Plus, they're one of the best ways to share a beer with your loyal companion.
There is no denying that natural dog treats are a healthier option. Brew'ed Biscuits might be slightly on the costlier side, but when it's about your furbaby, it's worth the price.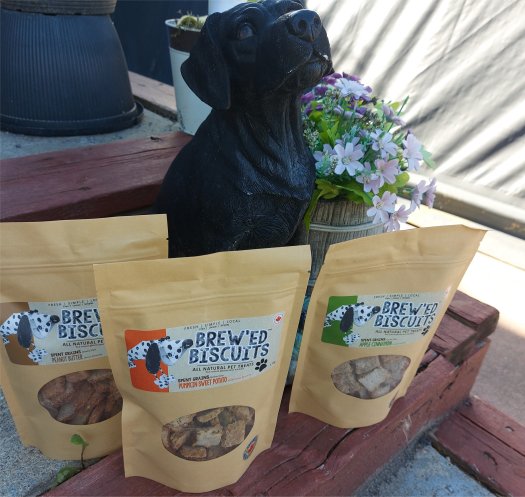 Two Spent Grains- Brew'ed Biscuits Giveaway
Two Spent Grains- Brew'ed Biscuits has partnered with Today's Woman for a giveaway. One lucky Canadian pet owner will win a 170 g trio pack of Brew'ed Biscuits. The giveaway will run from Tuesday, October 12th 2021 to November, 12 2021. You must do the mandatory entry to qualify. Winner will be chosen at random. Canadians 16 and over may enter. One person per household may enter.
Giveaway is open to Canadian residents. No purchase required to enter. Winner is drawn at Random using a Giveaway tool. Winner will be notified in the giveaway post and via the email provided with the winner's entry. Winner must reply within 48 hours.  If a response is not received within 48 hours from when the original email was sent, the winner will be disqualified and another winner will be drawn. Today's Woman is not responsible for shipment of any prize offered in a giveaway. Shipment of prizes is the responsibility of the Sponsor. Today's Woman will not be held responsible in the unlikely event that a winner does not receive their prize from a Sponsor.  Today's Woman will do everything possible to try to assist a winner in receiving their prize. Odds of winning the giveaway is  dependent upon the number of entries received.