While play-doh is always a beloved Christmas gift, it is nice for children to receive an alternative to play dough that gives them a new play experience. Here at Today's Woman we recently discovered the amazement of Zephyr, which is a fun Kinetic sand. Zephyr Kinetic Play Dough not only helps develop fine motor skills, but it is also the perfect sensory stimulating tool.
Kinetic play dough Zephyr
The Zephyr Innovative Kinetic Play Dough set comes with 6 plastic containers of Zephyr. The colors are white, pink, green, yellow, purple and orange.
With an endless number of creative possibilities, Miss P had a wonderful time making things and allowing her imagination to run wild. In fact she was engaged for hours making multiple items and incorporating her play dough accessories and cookie cutters into her sand molding projects.
One of the best parts about Zephyr Kinetic Sand is how easy it is to clean up. Zephyr sticks to itself. I just rolled the dough along the pieces I wanted to pick up and there was no mess, unlike play dough. I find Zephyr leaves a sand film on your hands. Be sure to wash your hands after play.
In our playing we also discovered Zephyr works better with molds or cookie cutters then it did simple molding.
Mom and dad will be pleased to know that Zephyr, is made from a nontoxic and eco-friendly kinetic plasticine. It contains hypoallergenic polymeric materials and food coloring as a dye.
Baking with Zephyr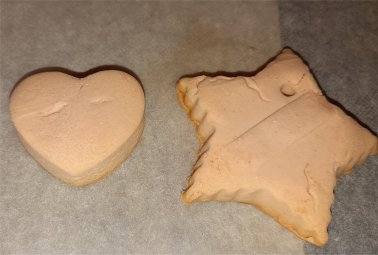 To bake your place in the oven on a baking sheet lined with wax paper for thirty minutes with oven temperature set to (350–375 F). Take out of the oven and let cool. You can then paint it with acrylic paints or spray paint.
Miss P decided to make star Christmas decorations to give as Christmas gifts. If making Christmas decorations be sure to put a hole in your decoration with a pencil before baking.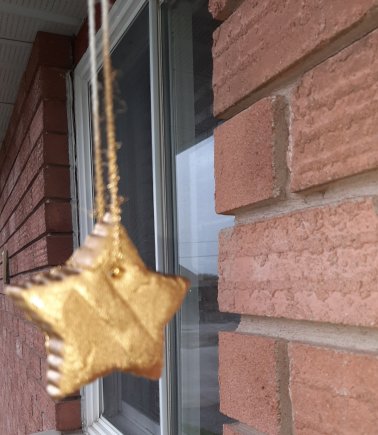 Water fun
You can also play with Zephyr Kinetic Play Dough in the water as it floats. When play time is over let the sand drys out and it is ready to play with again.
Overall, Zephyr Kinetic Sand  makes a wonderful Christmas gift.
Shop: shop.ksmtoys.com