If you are looking for a nonelectrical toy that sparks a child's imagination there is no better choice than Calico Critters. For more than three decades Calico Critters have captured children's imaginations. They were first introduced in Japan in 1985 as Sylvanian Families. This is what they're still called in other parts of the world with the acceptance of North America where they are known as Calico Critters. These adorable mini figures are made of special materials that give them a soft feel. Their homes and furniture are quite life-like and feature incredible detail. Each critter in the Cloverleaf Corners community has a job and hobby. Calico Critters consists of a traditional family structure, which includes a mother, father, sister, brother and baby. Each of the Calico Critter play sets includes a Calico Critter to help your child start their collection.
Calico Critter Red Roof Cozy Cottage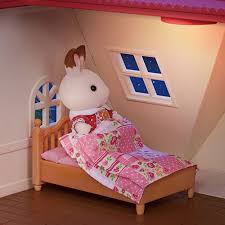 The Red Roof Cozy Cottage is the perfect play set for those starting their collection. Fully assembled your child can play with it right out of the box. This is something I appreciate as a parent. There is nothing worse than trying to assemble a playhouse Christmas morning as your children wait impatiently to play with it.
The cottage includes Bell Hopscotch Rabbit and 12 accessories. Like all Calico Critters, Bell Hopscotch Rabbit is poseable and velvety soft. She is sporting darling clothing that matches her personality. Accessories include a kitchen counter (with the sink and oven), a dining table with two chairs, and a bench, bed, mattress, quilt, frying pan, plate, fork, and an omelet. All these accessories enhance the fun factor and make it a great stand-alone play set. Connect it to other play sets like the Luxury Townhome or place the Cozy Cottage atop the Brick Oven Bakery to make a workspace for the Critters.
The Red Roof Cozy Cottage features two floors. Children can remove the second-floor insert making the house an open space. You can then flip over the second-floor insert to reveal a grassy garden area. There is a staircase that you can move around to a variety of spots in the playhouse layout. In addition to a front door, the cottage's windows have real working shutters.
My Thoughts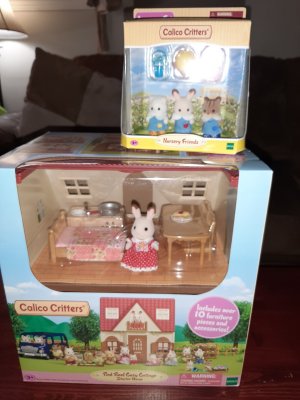 While the Calico Critter Red Roof Cozy Cottage gives you everything you need to start your collection there's plenty of room to add more accessories and more Critters. What I especially love about the Red Roof Cozy Cottage is it inspires imagination and creativity. When you power play by children's imaginations, the possibilities are endless.
I have owned a variety of different play sets over the years. I have to say the Calico Critter line is by far my favorite. Calico Critters also help children model nurturing and caring. These days there are few gender-neutral toys on the market. I love that Calico Critter markets to both boys and girls.
For more information about Calico Critters or to check out Calico Critter Red Roof Cozy Cottage and other Calico Critter play sets, hop over to calicocritters.com.
Here at Today's Woman, we believe that a gift that sparks imagination is one of the greatest gifts that we can offer young minds.