With six shopping days left until Christmas, now is probably the time that you're really getting serious about purchasing those perfect last-minute gifts. This holiday season skip the electronic gifts and give a gift that will unlock a world of fun and imagination. With the Sesame Street Elmo & Friends Dough Activity Set keeping children engaged and entertained is easy. The kit contains everything that your little ones need to create their favorite Sesame Street Characters. Children will delight in creating Elmo, Grover, Big Bird, Oscar the Grouch, and Cookie Monster out of dough.
Give the Gift of Imagination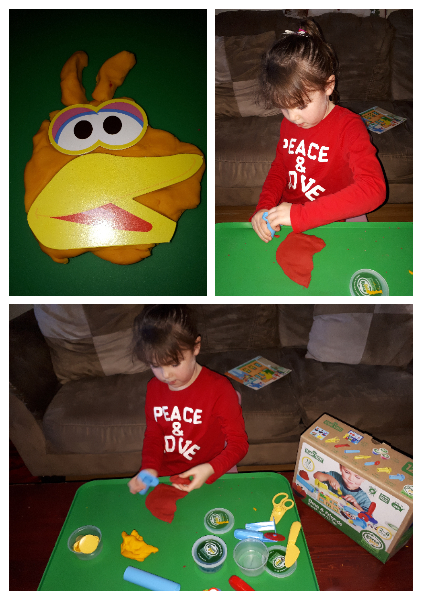 Green Toys dough sets are the safe and simple way for kids as little as two and up to enjoy the creative benefits of dough play.
The dough is made in the USA from simple ingredients like organic flour and mineral-based colorant. Each set comes with three containers of Green Toys dough  The colors are red, blue, and yellow. We find they mix together beautifully to create secondary colors.
Beyond the general fun of playing with the dough, the set does wonders for flexing my daughter's imagination and developing fine motor skills. During our making of Sesame Street Characters there was also quite a bit of free, open ended play. After all when it comes to playdough there is no right or wrong way to use it.
The set contains 12 pieces: star extruder,  spaghetti extruder,  scraper,  knife,  roller,  rolling cutter,  scissors, two-sided activity card,  and pop-out features sheet and 3 dough tubs. Thee are plenty pieces for two children to play and spend a few happy hours together.
Miss P really enjoyed the tools. They are a welcome addition to her other modeling dough tools and play doh tools.  Green Toys tools are made from 100% recycled plastic. The Tools are dishwasher safe for easy clean-up.
We absolutely love playdough in our house and all in all, the Sesame Street Elmo & Friends Dough Activity Set is a fun and creative activity that promotes open-ended, unplugged play.
Be sure to check out other Green Toys™ Dough Sets available at http://www.greentoys.com/.