In the field of Stem toys, Tech Will Save Us offers an high-tech upgrade to classic toys. Tech Will Save Us was founded in 2012 by husband-and-wife team Bethany Koby and Daniel Hirschmann in response to dissatisfaction with traditional STEM based-toys available on the market. The company's diverse range of toys enables kids to create their own toys and solve problems to help them invent their own future — with technology. The company specializes in demystifying the magic behind tech by breaking it down and making playful, fun, interactive experiences that kids will enjoy.
Electro Guitar Kit
This do-it-yourself Electro Guitar Kit takes music education to a whole new level. From start to finish children can easily build the modular cardboard electric guitar with the assistance of the Tech Will Save US APP. Your child follows the construction building process using the interactive how to videos to build each of the items. With the Electro Guitar Kit, your child will even learn the basics of how to play an electric guitar!
The Electro Guitar Kit includes three cardboard modular, 1 electric guitar, 1 electric amp and 1 stand.
As your child builds each modular they receive a token so they can proceed to the next step. As they progress along the informative videos teach, your child, the inner workings of what their making and their purposes, therefore making it fun and interactive. Once completed they are ready to start jamming using the Recording Studio, learning about cords and different tunes.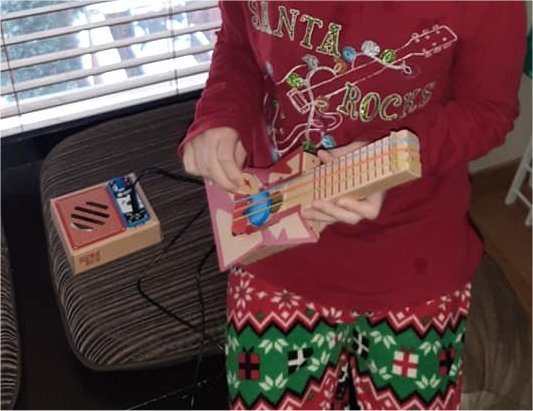 Your child will learn about music and sound technology, how you produce music, and how sound waves and electronic components bring it all to life. Children will be developing their creativity and motor skills while playing with the guitar! Naturally your child can make up their own jam using the recording studio to help create and record. They are then able to share their recording with friends and family.
The Electro Guitar Kit is suitable for children 8 and up; however, my daughter who is is six built the kit with some assistance from me in 10-15 minutes.
Electro Dough Story Kit
Inspire your child's imagination and creativity with the Electro Dough Story Kit. With this kit a child learns about the basic properties of electricity and circuitry. Story time comes to life through fun, hands-on play opportunities. Kids create magical tales by sculpting dough creatures that light up, all set in 3D pop-up scenery.
The Electro Dough is for children four and up. However, it's extremely easy to use. The set includes circuits, creative thinking, decision making and creating all in one.
Parents and kids follow along with the online narrated stories to make interactive scenes. Alternatively, unleash their imagination with projects that teach them how to create their own stories. It also broadens their speech, motor-skills and vocabulary.
For children four and up the kit nurtures your child's imagination, creative thinking and decision-making skills while providing endless possibilities for open-ended creative fun.
Download the Dough Universe app on iOS and Android devices and follow step by step tutorials. You'll need a Make Club account to access the content. While you and your child follow the instructions, the narrator tells a story and explains how current passes through the dough.
My daughter and I built each of the three story creations. She was intrigued to do more, watching the adventures unfold right before her eyes.
You can reuse the kit's components over and over again. Therefore, the fun never needs ending.Plus, Tech Will Save US has over 20+ online projects and tutorials available on their website for open-ended play.
Overall, the kit makes it really easy to explore circuits with play dough. Although our six year old enjoyed playing along supervision is strongly recommended.
Award winning toy
With a degree in Computer science, I myself strongly believe our children deserve toys, which will provide them with the skills they need for the future. With kits sold in over 87 countries, Tech Will Save Us does just that. Their products are available via www.techwillsaveus.com.