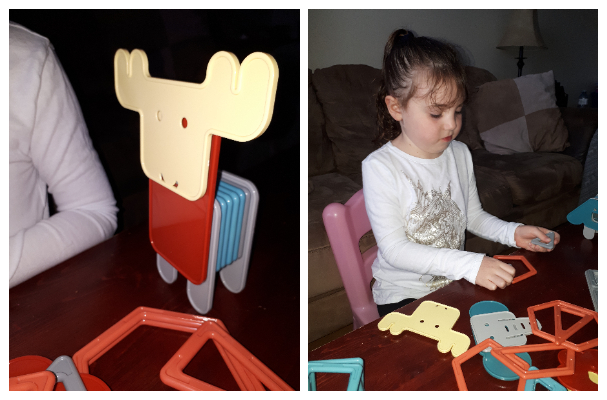 While I love role playing toys,  there is a special place in my heart for toys that manage to incorporate a bit of learning into my daughter's play. With only 11 days until Easter if you are wondering like I am what to get your child for Easter. Might I suggest the Magformers Animal Jumble set?
Magformers 60 piece Animal Jumble set
Magformers  Animal Jumble set is the perfect introductory set for imaginative creators. This set is not only adorable, but it provides your child(ren) with hours of fun. The set contains 8 triangles, 27 squares, 2 pentagon, 2 hexagon, 2 isosceles triangle, 2 trapezoid as well as 17 clip in animal accessories. The My First Magformers set also includes a colorful guidebook showing your children how to build their magnetic animals in one of three ways: connecting flat shapes, simple stacking, and creating three-dimensional objects.
With the blocks separated, Miss P begun exploring them horizontally, laying them out and creating flat designs on the coffee table.  With some assistance from me she begun building 3D designs. You simply hold two shapes close together and they connect instantly the moment they touch.
The guidebooks shows how to make a  deer, frog, puppy, honeybee,  elephant, giraffe,  chicken, lion,  caterpillar, penguin, koala, moose, bird, kitty cat, monkey, cow and a bunny. Children can also use their imagination and come up with their own design. Also, because all of Magformers pieces work together, the possibilities for creation are countless. Once built, structures can break apart easily due to the magnetic design.
Recommended for children age three and up Magformers is the perfect STEM toy for brain development promoting STEM  principles, creativity, and design skills.
Overall, Magformers Animal Jumble Set makes building fun with its magnetized pieces, plenty of accessories and variety of geometric shapes.
Each geometric magnetic shape is Sonic welded using BPA free HQABS and Neodymium magnets. There are about 170 items in the Magformers brand.
See the full range of Magformers products here: https://www.magformers.com
So what do you think of the Magformers New 60 Piece Animal Jumble Set? Does your child own any Magformers?
Shop Amazon for Magformers