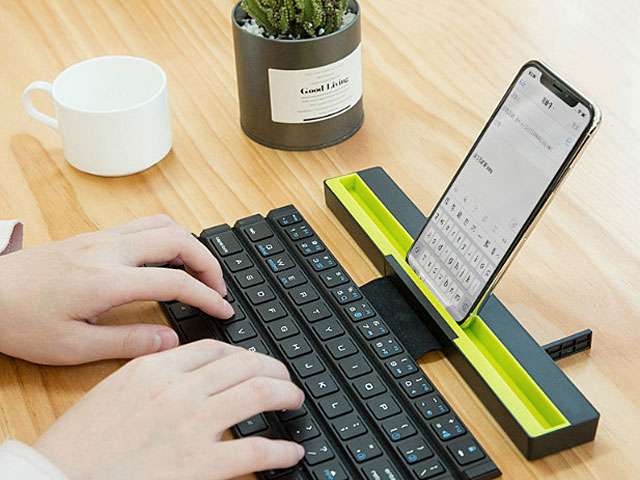 The Foldable Stick Bluetooth Keyboard from Brando is the perfect gift for anyone on your shopping list this holiday season.  Just ask my stepmom who has informed us that she wants one.
Let's face it folks, using a tablet for work is impossible unless you use a keyboard along with it. Ever try to type a blog post from your smartphone? My wife has. It isn't easy!
There are plenty of good portable Bluetooth keyboards out there, and the Foldable Stick Bluetooth Keyboard from Brando ranks right up there with them as far as performance goes.
Weighing less than 7 oz the Foldable Stick Bluetooth Keyboard is thin, lightweight, and compact making it perfect to take anywhere. Throw it in your backpack and it's ready to pull out at your local Starbucks while you enjoy your gingerbread latte.
The keyboard comes in a variety of colors like Black, Blue, or Red, and it's very stylish. Your friends are sure to ask you where you got it.
The Keyboard support iOS, Android, and Windows. It uses Bluetooth v3.0 to connect your devices and you can pair up to three devices at once, which makes the keyboard versatile and easy to share.  However, the Foldable Stick Keyboard can only hold up to two devices on the mounting tray like a seven-inch tablet and your Smartphone side-by-side or a ten-inch Tablet.
The portable Bluetooth keyboard has 64 keys which is the standard for keyboards. I would have liked it if the keyboard lit up for night use, but that's only a small oversight.  Unlike many of its competitors, this keyboard runs on one AAA battery, meaning it won't drain your device's power to recharge
At $40 on Brando, you really can't go wrong. Overall the keyboard is perfect for frequent travelers and those who want to type more comfortably on the go.
Our daughter will be using the Foldable Stick Bluetooth Keyboard with her tablet.
Orders your today at https://shop.brando.com.