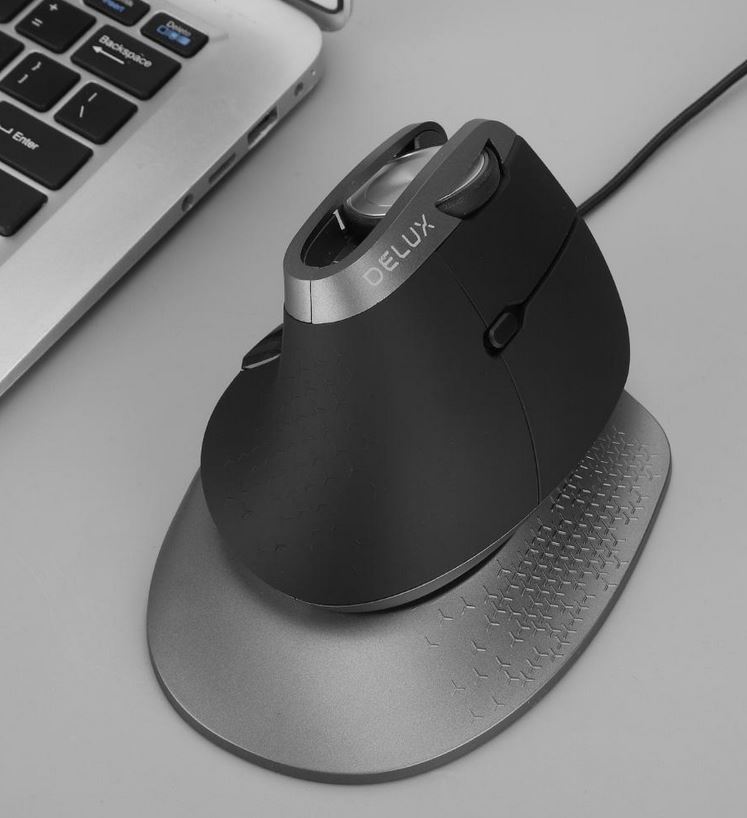 If you are looking to pick up a gift for the computer user in your life then might I recommend the Delux M618X Wired E-sports Game Mouse from Brando. I had been shopping for a vertical mouse for a family member when I came across the M618X. I was about to purchase Logitech's MX , but decided to go with Delux M618X.

The Delux M618X is listed as a Vertical Gaming Mouse with 4 levels you can set it to with a max of 4000 DPI. However that's not what caught my attention. It was the overall design and the adjustable angle you can set 20 degrees either left or right for wrist comfort. This is a nice feature for anyone with arthritis or carpal tunnel. Its unique design places your hand, wrist and arm in a more ergonomic position compared to a standard mouse.
M618X is ready to work right out of the box. It's plug-n-play, however to use all its functions and features you need to install the software on the CD that was included in the box or download it from the manufactures website.
The mouse connects to your laptop or desktop using the standard 1.4 m braided cable. M618X will work with windows 2000/windows XP/ windows Vista/ windows 7/ windows 8 and windows 10 and of course MAC OS.
I like the idea of being able to program the 6 buttons on the M618X for user preference. However, the mouse's software is only compatible with Windows 7/8/10 if you're planning on programming the six buttons.
The m618x also illuminates four different color patterns, which gives it that extra stylish edge that some of the more expensive gaming mouse have at, but at a fracture of the cost.
Overall Verdict
The Delux M618X virtual mouse may take some time to get use. Nonetheless, it isn't a bad mouse, but I do prefer the Logitech MX Vertical – Ergo mouse!  If you are short on cash then you may want to go with the Delux M618X Wired E-sports Game Mouse. As far as price point is concerned it is cheaper than Logitech MX.
Note that the Delux M618X  Mouse comes in both a wired and wireless version (using a nano receiver). The one mentioned in this review is wired.
Shop: https://usb.brando.com